* Support max resolution 4K/60Hz
* Support the max baud rate of 6G and TMDS clock can be up to 600 MHz;
* Support deep color;
* Support AWG26 HDMI standard cable: HDMI input up to 8 meters, HDMI output up to 8meters. (1080P and below resolution);
* Support USB 3.0 standard cable, output up to 1.5m;
* Support many capture software, such as VLC,OBS, Amcap;
* Conform to USB video 1.5 and audio 1.0 standard.
4K HDMI to USB 3.0 video capture HDMI input + HDMI output + USB 3.0 capture + audio extraction
The HDMI video capture can capture the HD video and audio signal. It can display the HD signal to the displayer or projector. It support USB storage by computer at the same time.
The HDMI video capture also can separate the HD video and audio signal. The RCA or optical fiber digital audio can connect with an amplifier. The max resolution can be up to 4K/60HZ.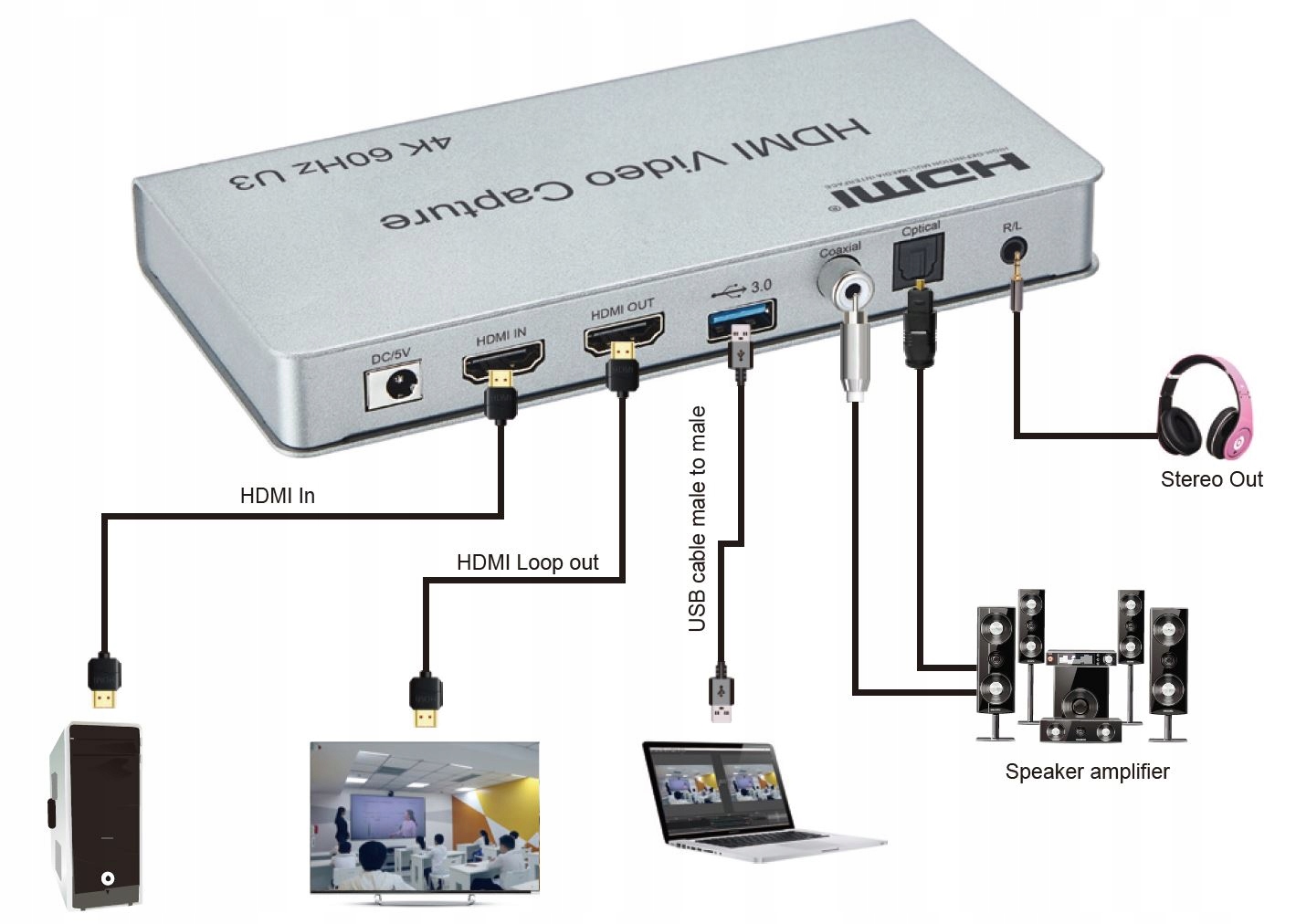 System requirements
CPU: PC i5-3400 or above ; Notebook i7-3537U 2.0GHZ or above

Graphics card: PC NVIDIA GT630 or above; Notebook NVIDIA GT735M or above
| | |
| --- | --- |
| HDMI version | HDMI V2.0 |
| HDMI resolution  | Max can be 4K/60Hz  |
| Support audio format  | LPCM  |
| Max bandwidth  | 600MHz  |
| Max bit rate  | 6Gbps  |
| Input cable distance  | (1080p resolution) ≤8m AWG26 HDMI standard cable  |
| Max working current  | 0.65A  |
| Power adapter format  | input AC (50Hz, 60Hz) 100V-240V; output: DC5V/ 1.5A |
| Operating Temperature range  | (-1 0 to +55℃) |
| Dimension (L x W x H)  | 162x80x23 (mm)  |
| Weight  | 420g  |