Description: 

Present dynamic lessons with the affordable EB-W51 classroom projector. Offering remarkable color accuracy, Epson projectors deliver  high Color Brightness. Reliable and impressive, the EBW51 features 4,000 lumens of color/white brightness2, plus widescreen WXGA resolution. Its long-lasting lamp, which delivers up to 12,000 hours in ECO Mode, lowers maintenance costs. Optional wireless connectivity offer advanced network control and support the simultaneous display of multiple screens. 

 

Features:
● Brightness
White Light Output (Normal / Extended) :4,000 lm
Colour Light Output: 4,000 lm
● Contrast Ratio 16,000:1
● Geometric Correction
Vertical / Horizontal Keystone ±30° / ±30° (Auto Vertical Keystone only)
Quick Corner: Yes
Split Screen: Yes
Internal Speakers : Monoaural: 2W x
● Supported Speed For Each Mode
IEEE 802.11b (2.4GHz): 11 Mbps*2 / IEEE 802.11g (2.4GHz): 54 Mbps*2 / IEEE 802.11n (2.4GHz): 72.2 Mbps*2 / IEEE 802.11a (5GHz): 54 Mbps*2 / IEEE 802.11n (5GHz): 150 Mbps*2
● Wireless LAN Security
Infrastructure: OPEN, WPA2/WPA3-PSK
Access Point: OPEN, WPA2-PSK (AES)
● Operating Temperature Low Altitude: 5 – 40 °C <41 – 104 °F> High Altitude: 5 – 35 °C <41 – 95 °F>
● Direct Power On / Off: Yes
● Start-Up Period Up to 6 seconds, Warm-up Period: 30 seconds
● Cool Down Period:Instant Off
● Air Filter
Type High Efficiency Filter
Maintenance Cycle (Normal / Eco) 6,000 / 12,000 hours*3

 


Higher resolution quality

WXGA quality projection ensures that content is shared without distortion and any image quality loss.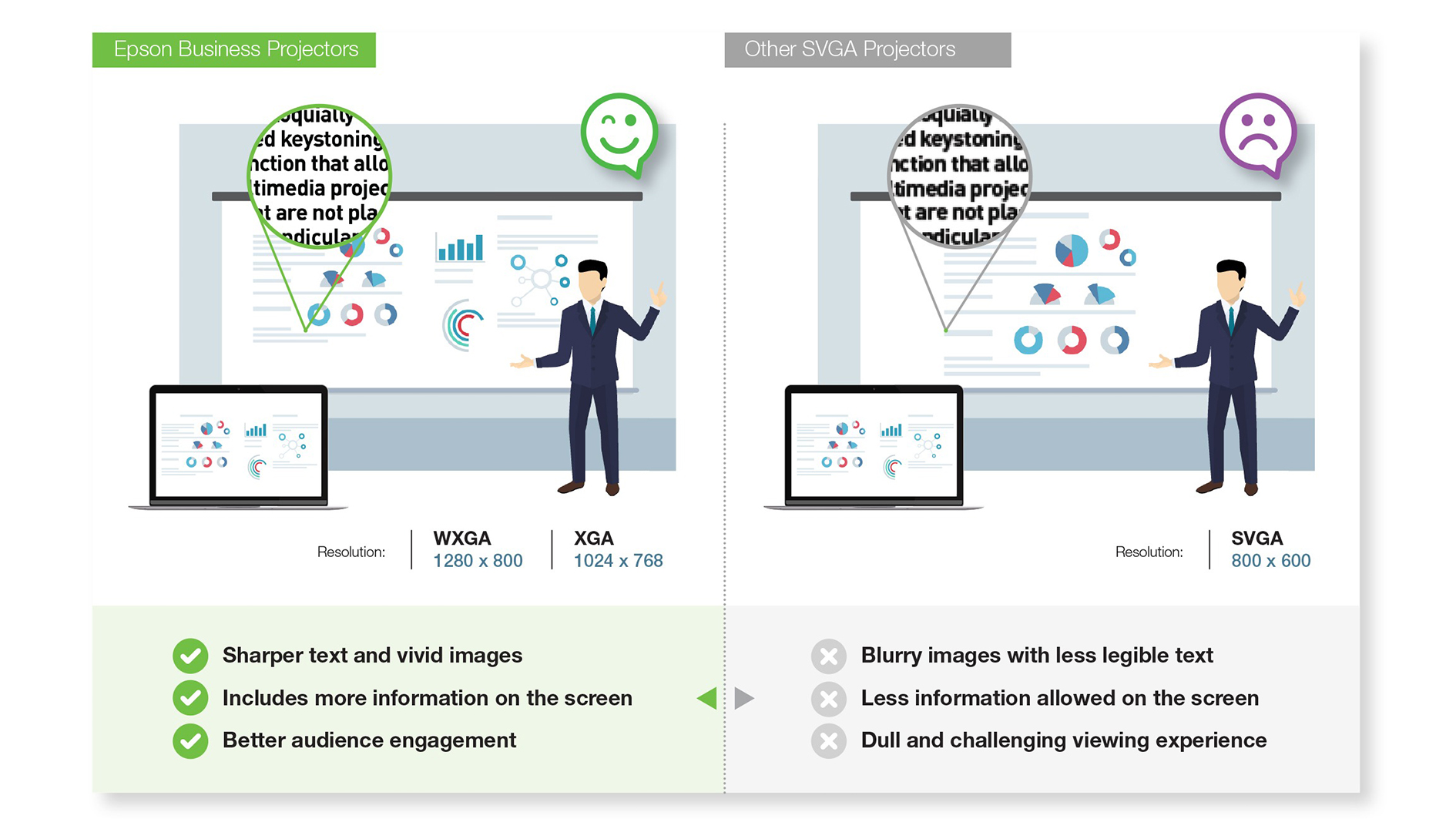 Bigger projections
When you are looking for bigger display, projection is the obvious answer ensuring that your information is conveyed clearly and accurately for everyone in the room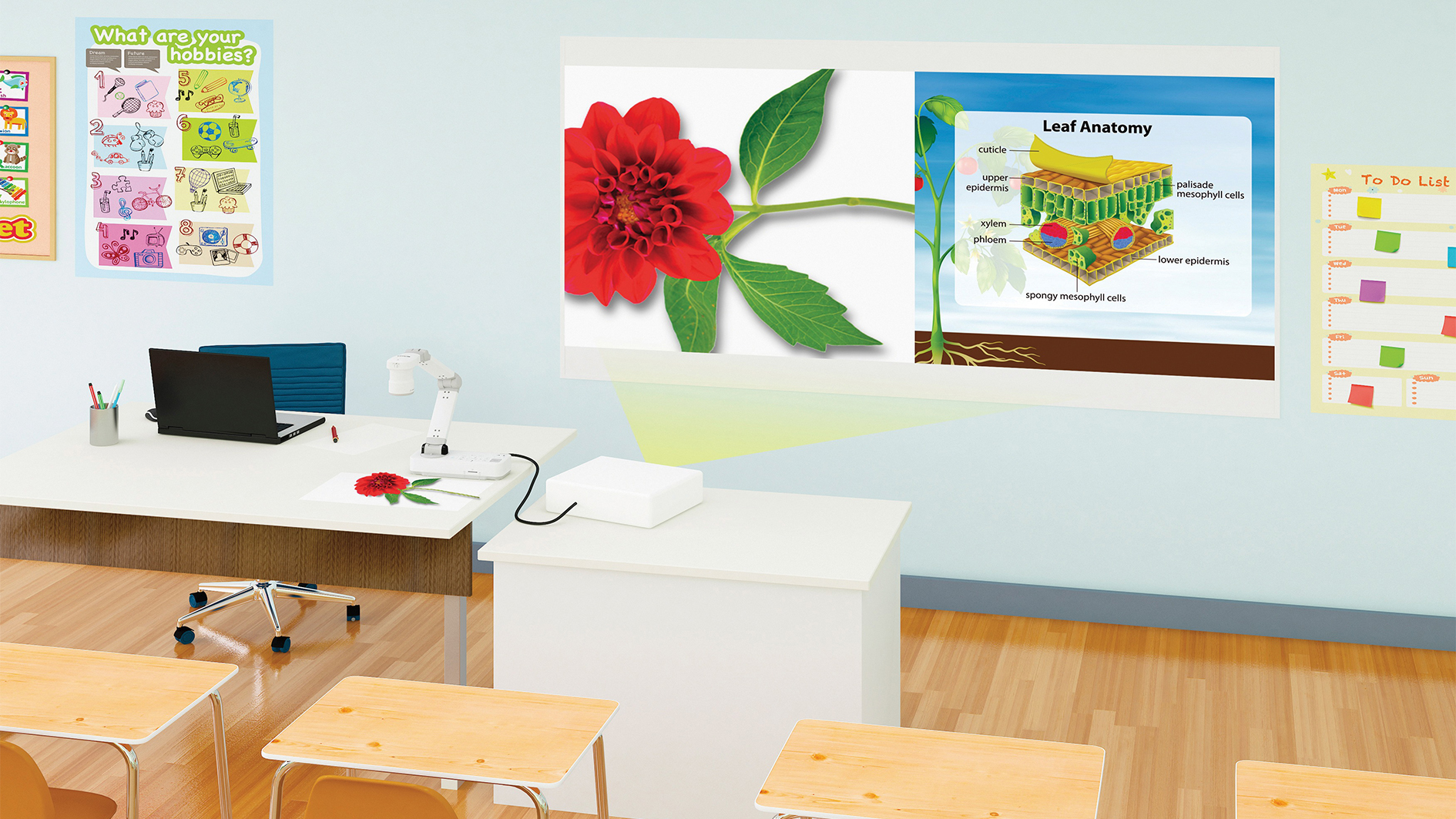 Split Screen Function for Wired / Non-wired Devices
A split screen function enables the simultaneous projection of two images from separate devices through both wired and wireless connections on a single screen, eliminating the need for a second projector. Classroom lessons and business meetings can now be more engaging by connecting the projector with a document camera and a PC or tablet.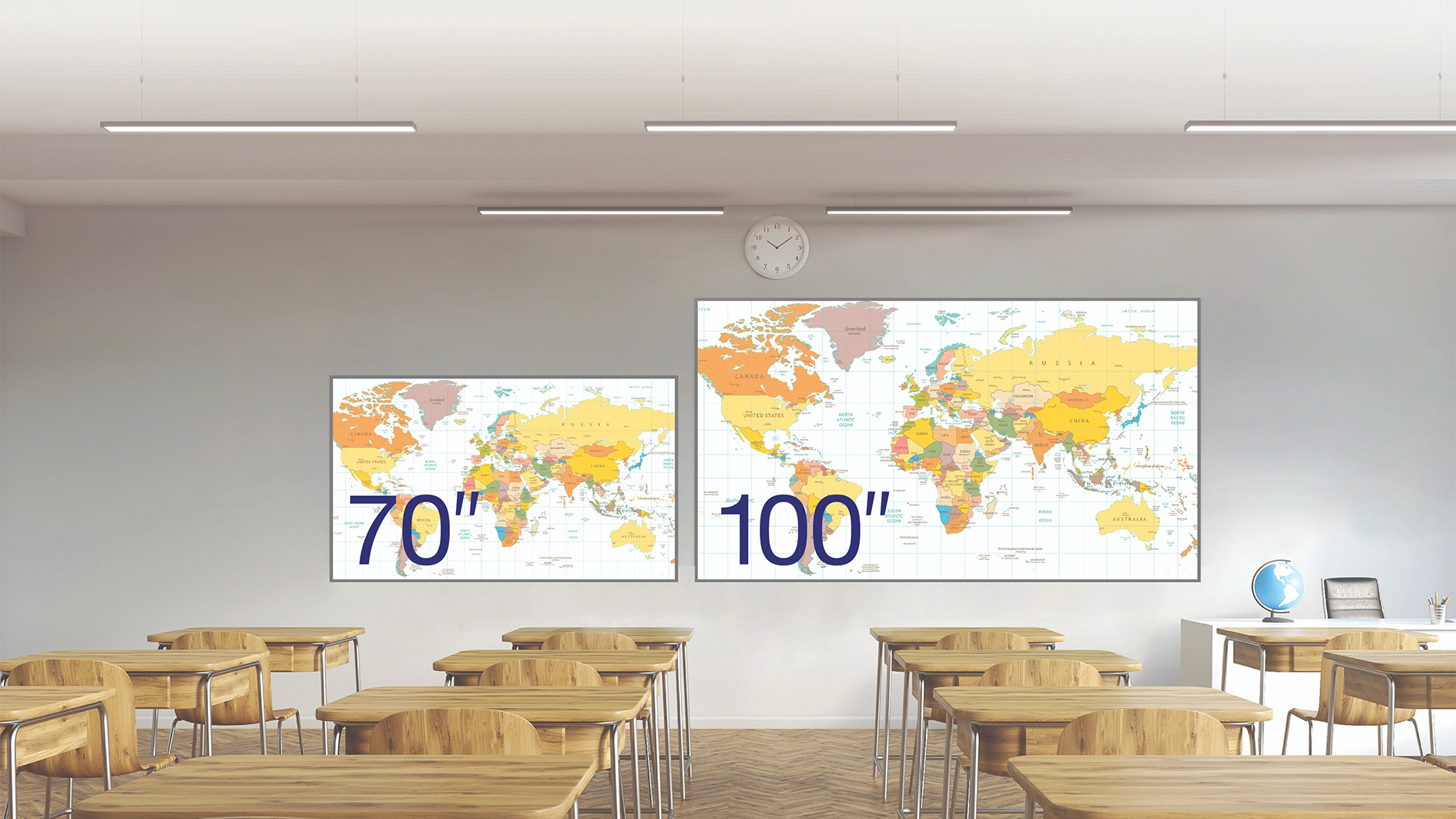 Various Interfaces
Epson business projectors support a wide range of connectivity options including HDMI, VGA, and USB. These interfaces support connections to both the latest digital devices as well as the existing legacy of analogue products without the need for adaptors.