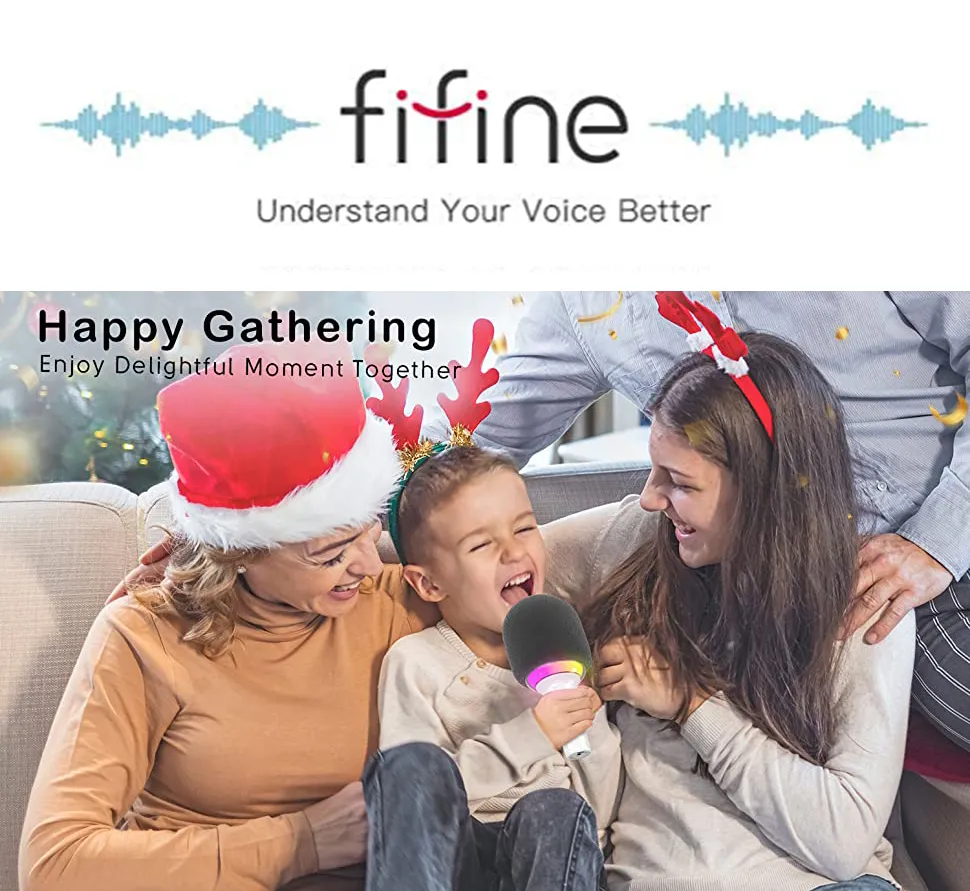 【Clear Loud Sound】 Equipped with a well-constructed built-in speaker, the karaoke microphone for singing produces sound loud enough. Your vocal voice can be heard brightly even in outdoors, like a clear sound from an indoor Karaoke room. Supercardioid pick-up pattern suppresses ambient noise for brightly clean sound. Friends and family around you will feel as beautiful as if you sing in a live concert.
【Multiple Sound Effects】 5 kinds of voice changing (female, male, baby, magic voice, and original voice) are integrated into the Bluetooth microphone wireless, which gives you an easy way to change your voice by a short pressing button. You and your friends more easily immerse into the role whether singing or playing. Fully enjoy the relaxation and happiness when singing with the voice changer microphone with the speaker.
【Controllable RGB Lighting】 Portable wireless karaoke microphone for adults featured four kinds of RGB modes (colorful lighting, single-color changing, dynamic gradient, light off), shows more than seven colors. Prefer the mode you like to make the karaoke atmosphere more gorgeous as if you were in a glowing concert scene. Dance with the lights and music beat tempo from the handheld microphone.
【Long Playing Time】 Built-in high-capacity rechargeable battery, the Bluetooth karaoke microphone for kids provides more than a 5-hour playing time. The lasting battery life of the microphone for karaoke extends merry hours to hold a home party or small gathering. It gives you a free relaxing time with family and friends, but no worry about party interruption due to the battery running out of power.
【Bluetooth/Aux-In Connection】 Stable transmission of Bluetooth 5.2 gives instant pairing between the cordless microphone and your device. Greatly compatible with tablets/iPad, laptops, iOS iphone and Android smartphone cellphone, the wireless microphone for singing gets rid of traditional single connection way but comes with wireless and 3.5mm Aux-in. The 32.8-foot wireless working range releases more singing freedom for your backyard activities or camping.
【Wide Use Scope】Stylish portable wireless karaoke microphone for kids is designed with compact material and moderate weight combined itself and the speaker into one. Adjust the volume button to get desired sound level and you can create more singing rhythms. Basic functions all in one, the wireless mic is great for adults to relieve worries, and children to start a singer's journey, a decent choice for holiday gifts/presents of all ages.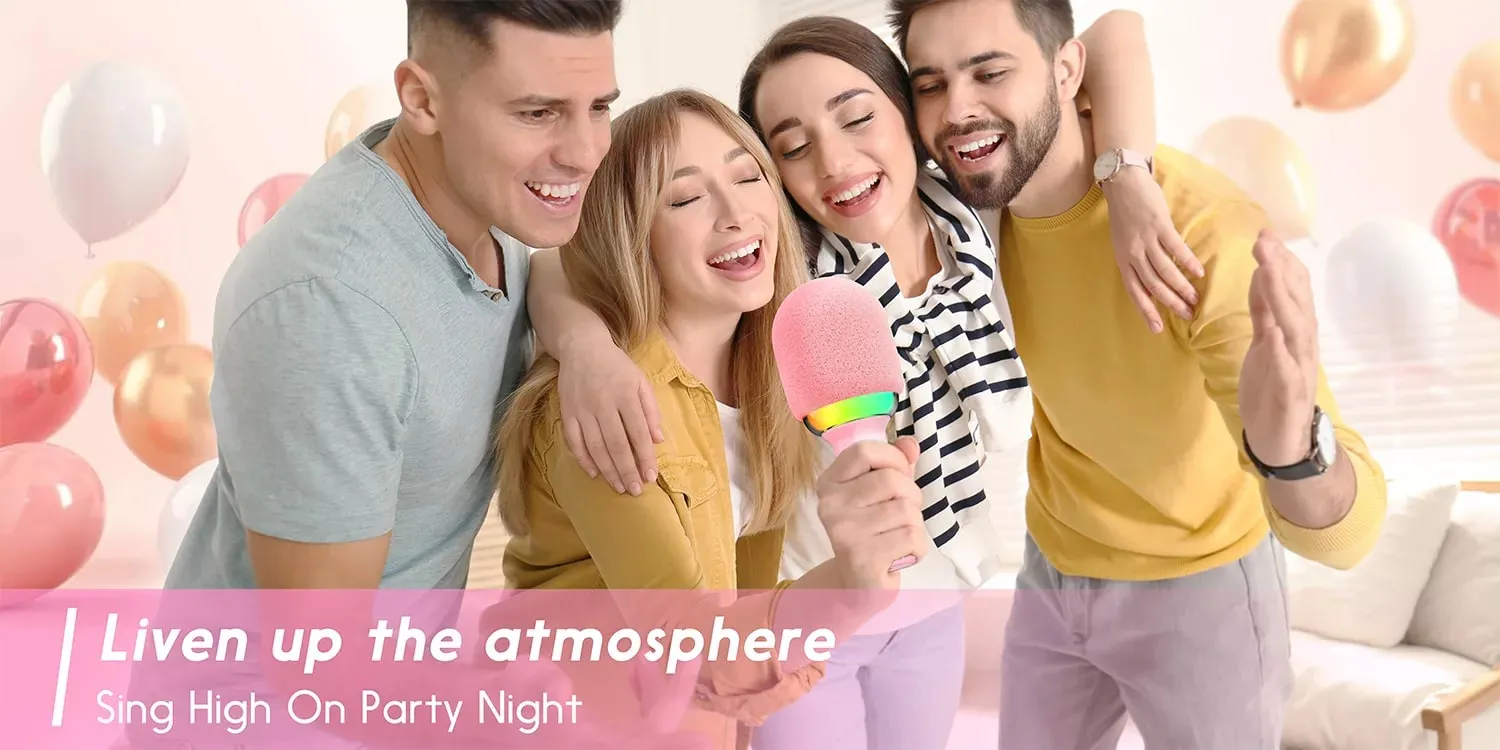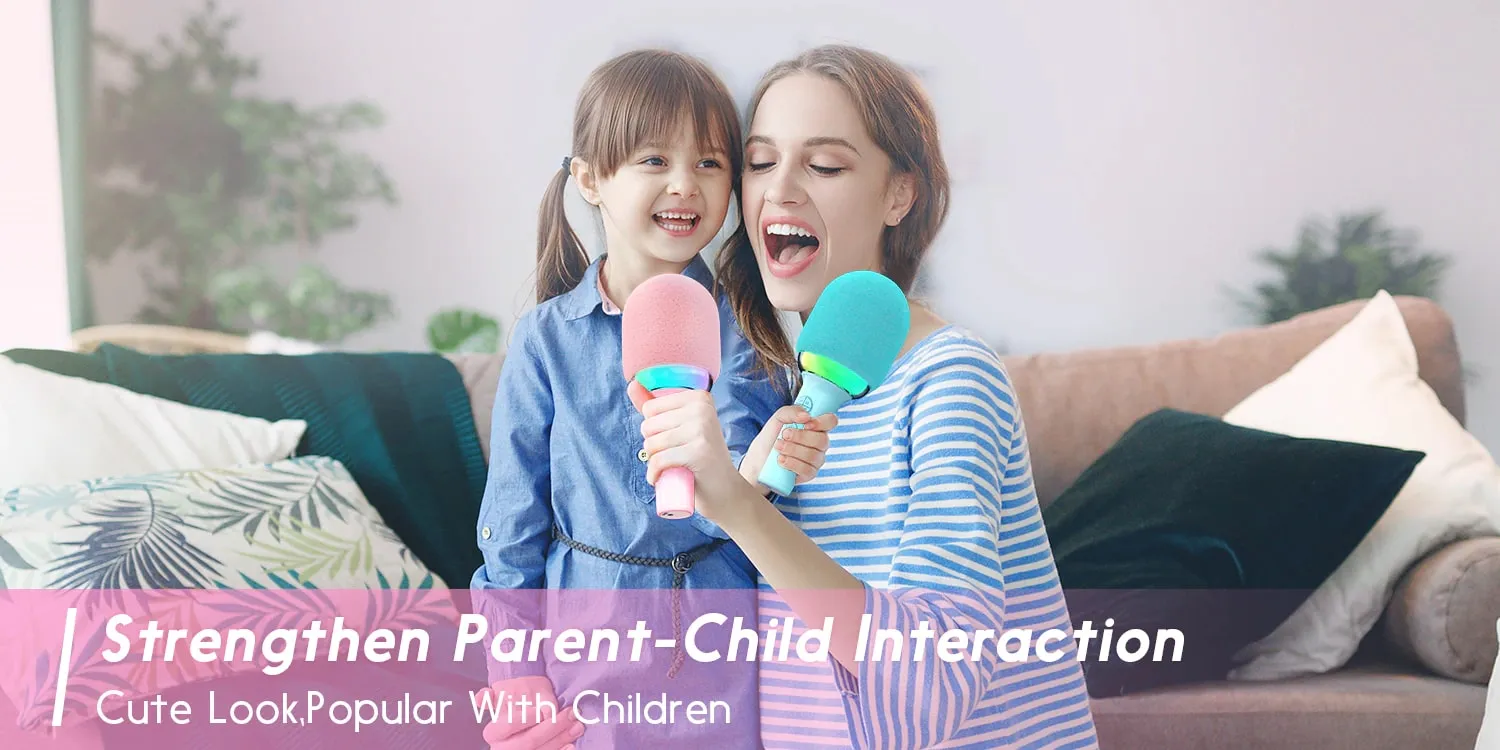 Karaoke Microphone With Speaker
A portable karaoke microphone can help you enjoy your party time.A portable karaoke microphone can help you enjoy your party time because it has a speaker. After simple operation of the microphone, you can turn on your karaoke mode in the party.

Bluetooth-compatible & line in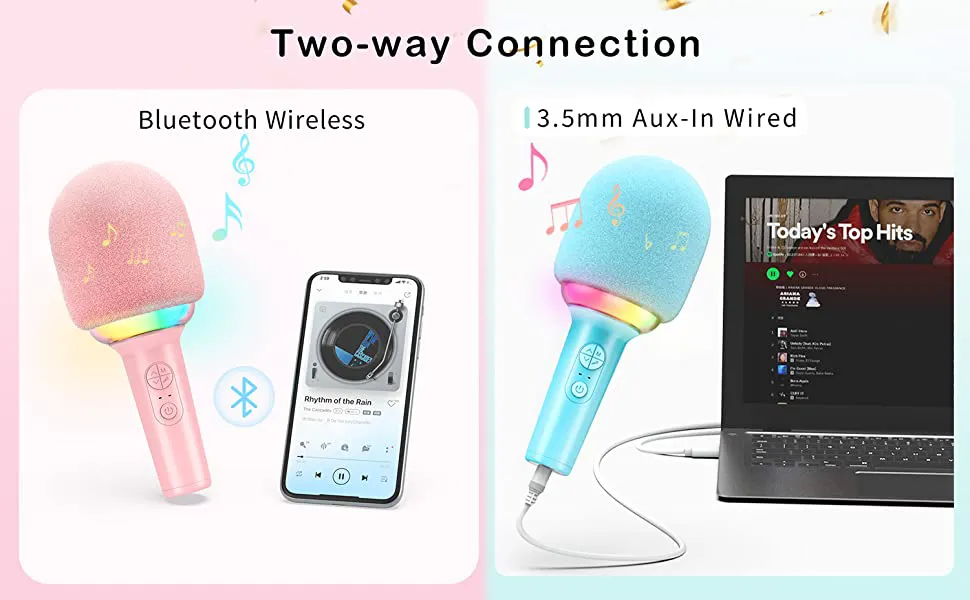 Use a Fifine E2 karaoke microphone and a Bluetooth compatible mobile phone. You can play the music you want when you have successfully connected your phone to the microphone. Open the microphone Bluetooth mode, find the name of the "Fifine Microphone" on the phone, and click it to complete the operation. It also has a Line in mode for song recording.
Voice Changing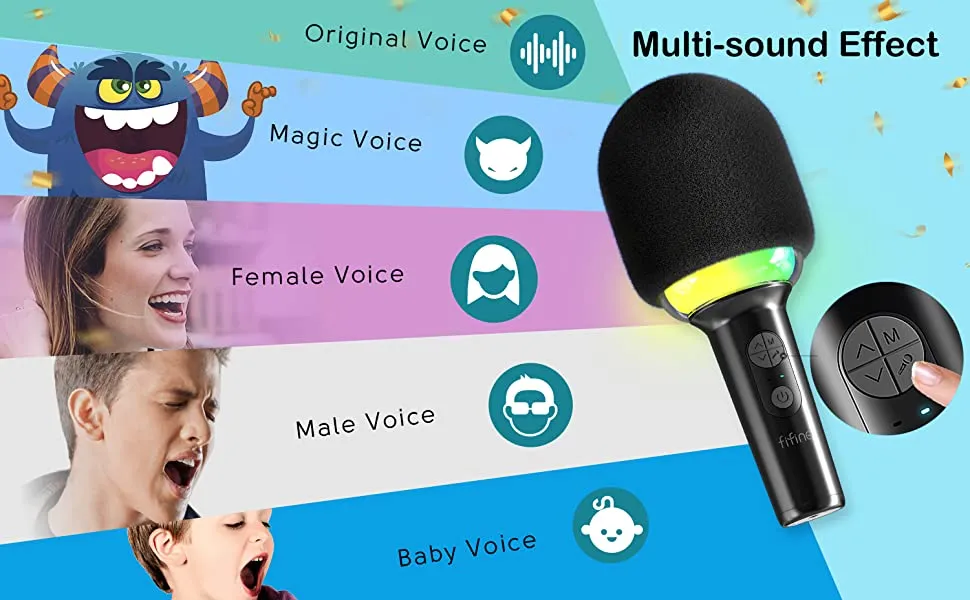 Just click "M" to change your voice. The microphone has four sound modes:
Turning off the voice change mode will play your original voice.
RGB Light effect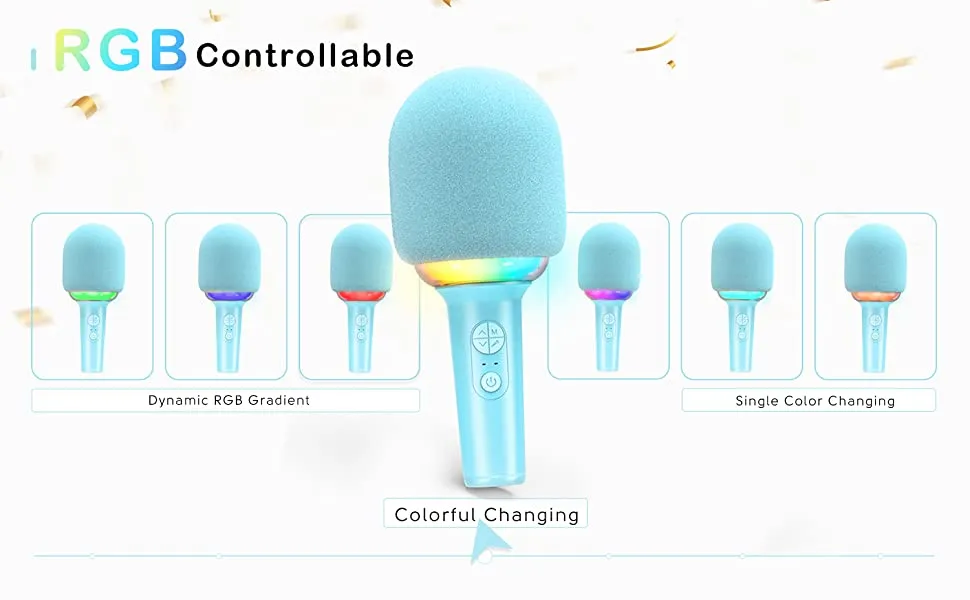 Colorful light effects can add some atmosphere to the party. The microphone provides three light effect modes: Dynamic multi color gradient, Cyclic decomposition Red/blue/green, Dynamic solid color gradient. You can switch RGB mode by holding the "M" button for 3 seconds.
5-hour Battery Life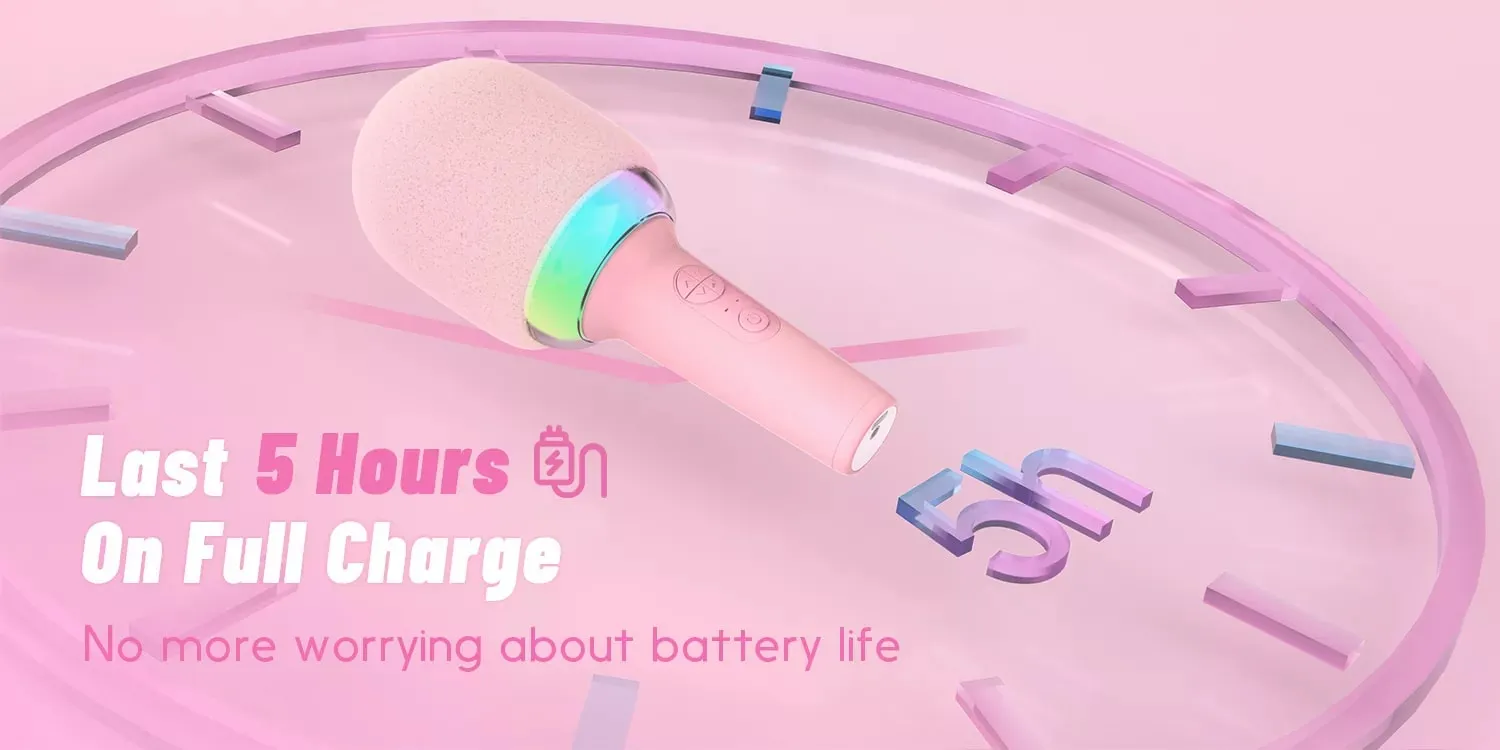 Built in battery, the microphone can last for 5 hours when fully charged, allowing you to carry it anywhere. It is completely suitable for camping, picnicking, and outing with friends and family.