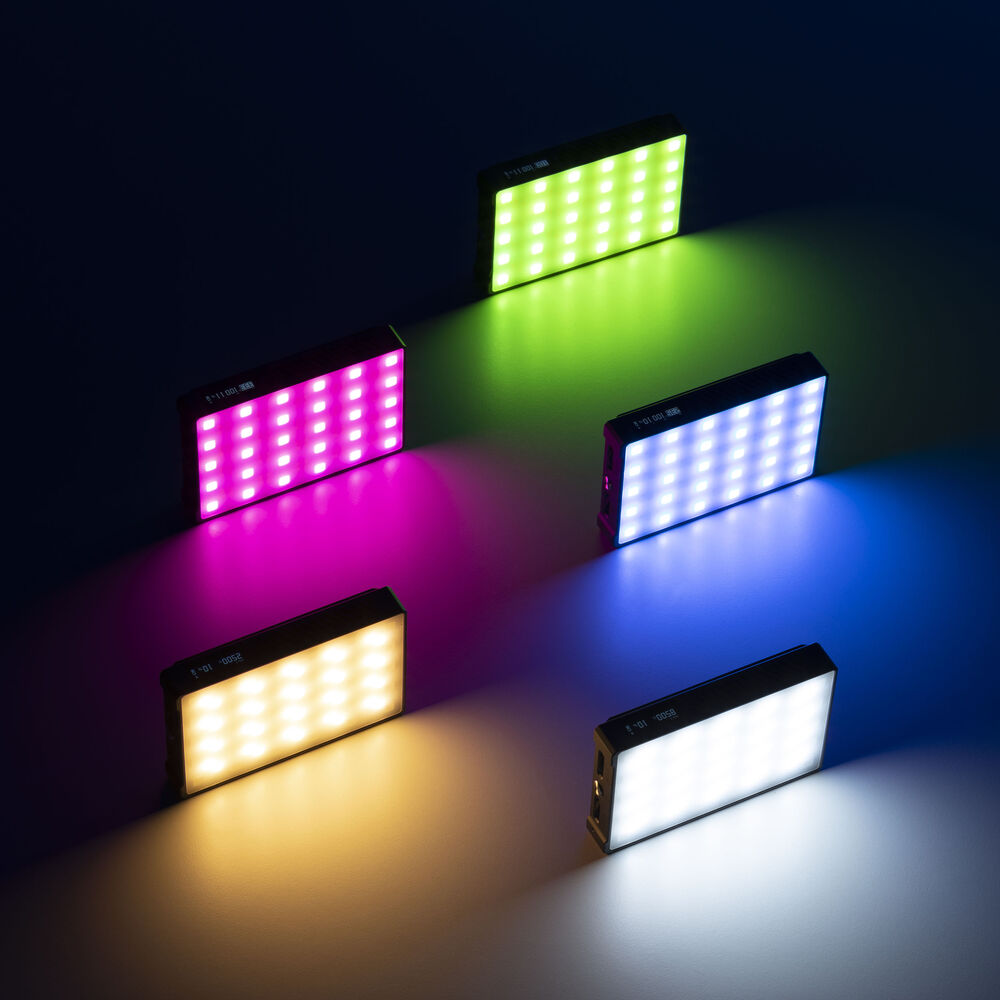 C5R
Light is a key element in photo and film productions, while focusing on the main light, it is also worth remembering the ambient light in the background, creating mood in a scene. The new Knowled RGBWW C5R panel is a palm-sized device, ideal for adding dynamism or mood to a scene.

Intelligent Control
In addition to control on the panel itself, the C5R can be controlled by the Godox Light app, making it easy to supervise multiple lights at once, making it convenient even for large productions, maximizing the efficiency of operation in modes such as RGBWW, HSI, CCT.

Easy Mounting
With a magnetic strap on the back, the C5R can be attached to any metal surface. A 1/4 screw mounting hole and standard cold shoe base give even more mounting options.

Unlimited Ideas
With 39 built-in FX effects, variable color temperature (from 2500K to 8500K) and multiple color modes, the C5R allows users to adapt to any situation.

Smaller, Lighter, Brighter
The C5R is smaller than a smartphone and weighs 169g, making it lightweight and portable. With 110 high-brightness LEDs, there is plenty of light. Take it everywhere with you, hide it wherever you want and show all your imagination.
Specifications:
Item Type: 1 x LED Light Panel

Color Temperature: 2500 to 8500K

Color Modes: Red, Green, Blue

Dimming: Yes, Built-In Dimmer, 0 to 100%

Inputs/Outputs: 1 x USB-C Power Input

Power Consumption: 5 W (Maximum)

Color Temperature: 2500 to 8500K

LED Light (RGBWW): RGB, Warm White (WW)
Features:
2500 to 8500K Color Temperature

0 to 100% Brightness Dimming

Integrated 3000mAh Lithium-Ion Battery

Supports USB Type-C charging/wireless charging, and wireless charging for other mobile devices

Compact and portable, weight only 169g

Built-in CCT/HSI/FX mode, up to 36000 colors with CRI 96+

Magnetic design on the back, mountable to metal surface

Cold and warm color temperature, precisely adjustable from 2500K to 8500K

39 simulated light effects to create various scenes

3000mAh built-in lithium battery works continuously for 2hours in 100% brightness

Bluetooth APP control, simple and convenient operation

CRI 96+, TLCI 96+, restore the original color