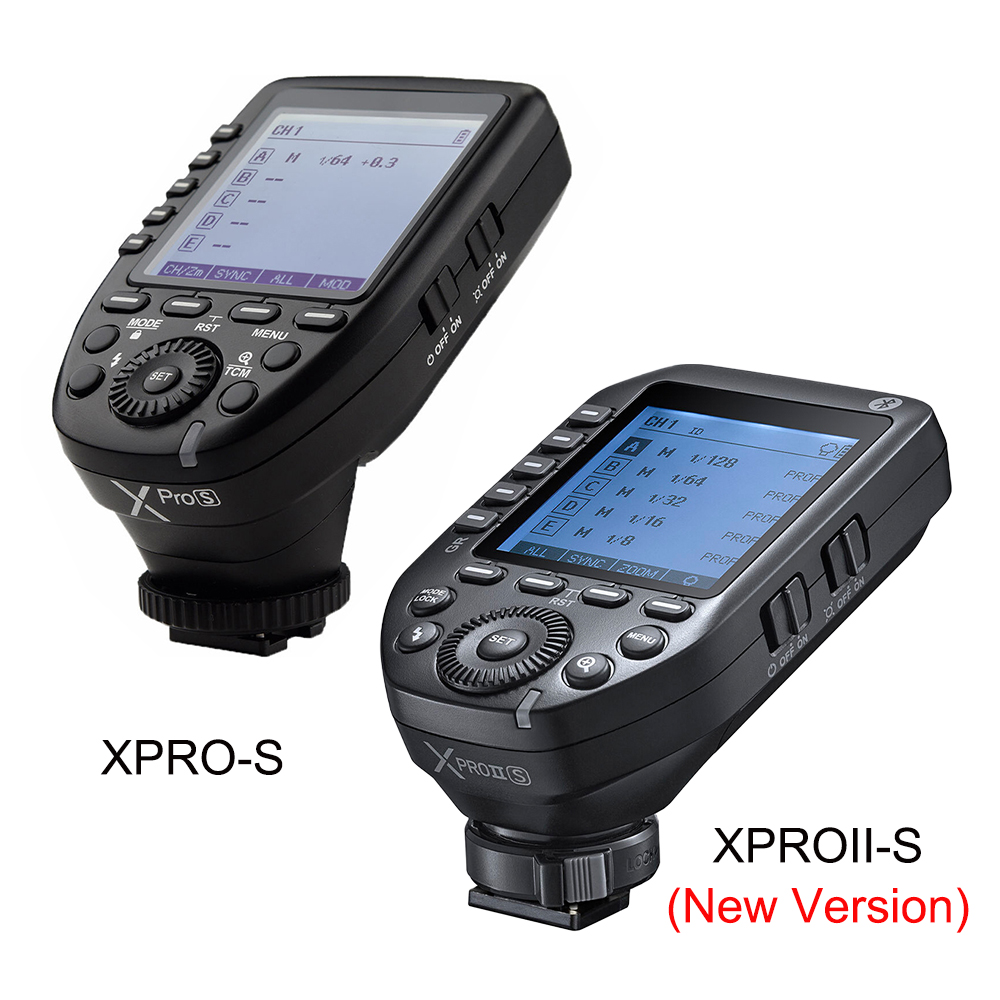 XPRO-S & XPROII-S
TTL Wireless Flash Trigger
Overview:
GODOX XPRO-S (Version 1)
●The XProS TTL Wireless Flash Trigger uses the 2.4 GHz Godox X wireless radio system to consistently and effectively trigger flashes from up to 328' away. When used with compatible flashes and receivers, users also have access to remote power control. With support for high-speed sync up to 1/8000 second and compatibility with Sony's ADI / P-TTL system, this model provides extensive control options as well as settings for using system-specific features. Users can set up 16 groups on one of 32 channels to ensure optimum control and reliability. They can then access 99 wireless ID settings to reduce interference from other devices in the area.

GODOX XPROII-S (Version 2)
● The XproII is upgraded in various aspects, including built-in Bluetooth connection, direct adjusting on Sekonic L-858 light meter, quick release lock, all-new UI design, a smoother dial, and so on.
● Designed for the 2.4 GHz Godox X wireless radio system, this XPro II TTL Wireless Flash Trigger lets you effectively and reliably trigger flashes up to 328' away. 
●This upgraded model is compatible with the Sony TTL system, including support for high-speed sync up to 1/8000 second, and offers advanced control capabilities for working with system-specific features. For ensuring maximum reliability and control, users can set up 16 groups on one of 32 channels and can then access 99 wireless ID settings for limiting interference from other nearby systems.


BLUETOOTH COMPATIBILITY
● With the addition of Bluetooth, the XPROII can now interface with the Godox Flash App. Connect the XPROII to your smartphone and get full control over your flashes directly from your phone. You can even use your phone as the camera and fire your lights


What's different in Version 2?
● Improved compatibility for mirrorless cameras
● Backlit Buttons
● New flip lock mounting mechanism
● Save user setting to 5 different memory slots for recall later
● New individual modelling lamp control (adjust the modelling lamp of each light separately in Proportional and Percentage)
● Update firmware through USB-C on PC or Laptop with Godox V3 utility
● Channel scan function (scan your location for the least amount of interference)
● New Sekonic L-858 integration (fire your lights from your Sekonic L858 meter)
● Improved TCM function (Convert TTL flash exposures to manual power settings, now with more Godox strobes supported)
● New menu interface, Bluetooth Connectivity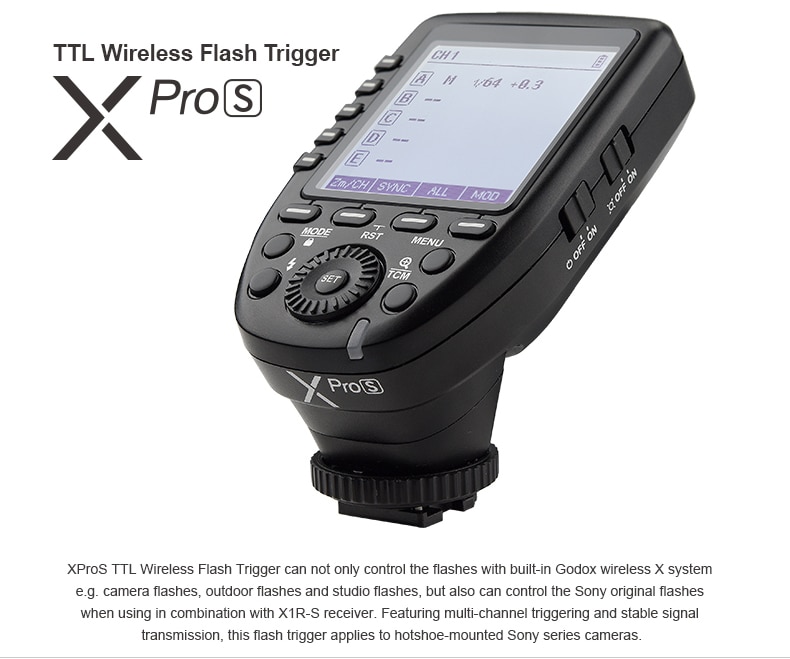 New Menu Interface for version 2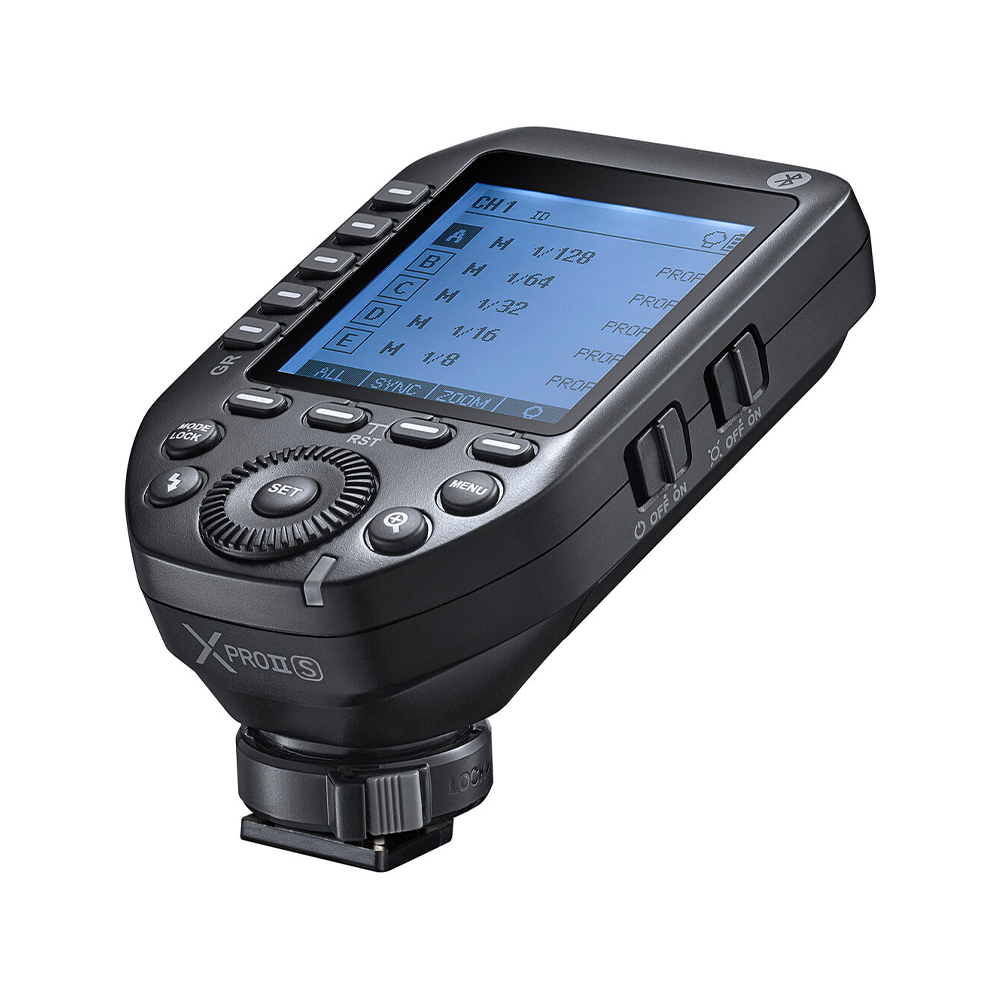 The new and improved XPro transmitter edition brings more intuitive, professional and user-friendly features. Inheriting all the professional functions of the Godox flash triggers, the XProII supports TTL auto flash across brands, stroboscopic flash, second-curtain sync modes, and allows for high-speed sync with shutter speeds up to 1/8000s. Moreover, it's designed with an extra-large LCD screen and intuitive display panel to enhance your working efficiency.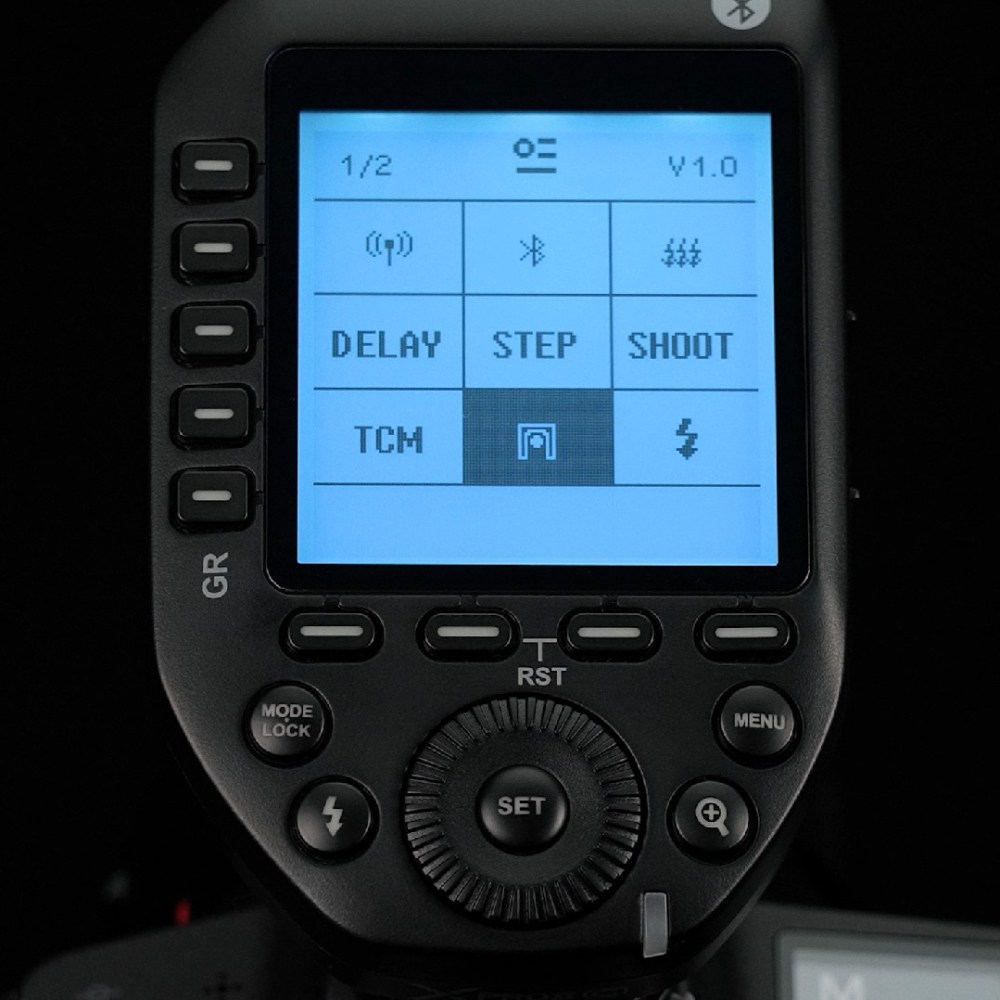 Thanks to the 2.4GHz Godox wireless X system, the XProII helps you achieve seamless and stable control of the Godox lighting system. It features multi-channel triggering with 16 groups on one of 32 channels and can then access 99 wireless ID settings, with stable signal transmission from up to 100 m away. The highlight is the scanning function to automatic searching for the spare channels and IDs in a complex shooting environment, which will save you much time for preparation.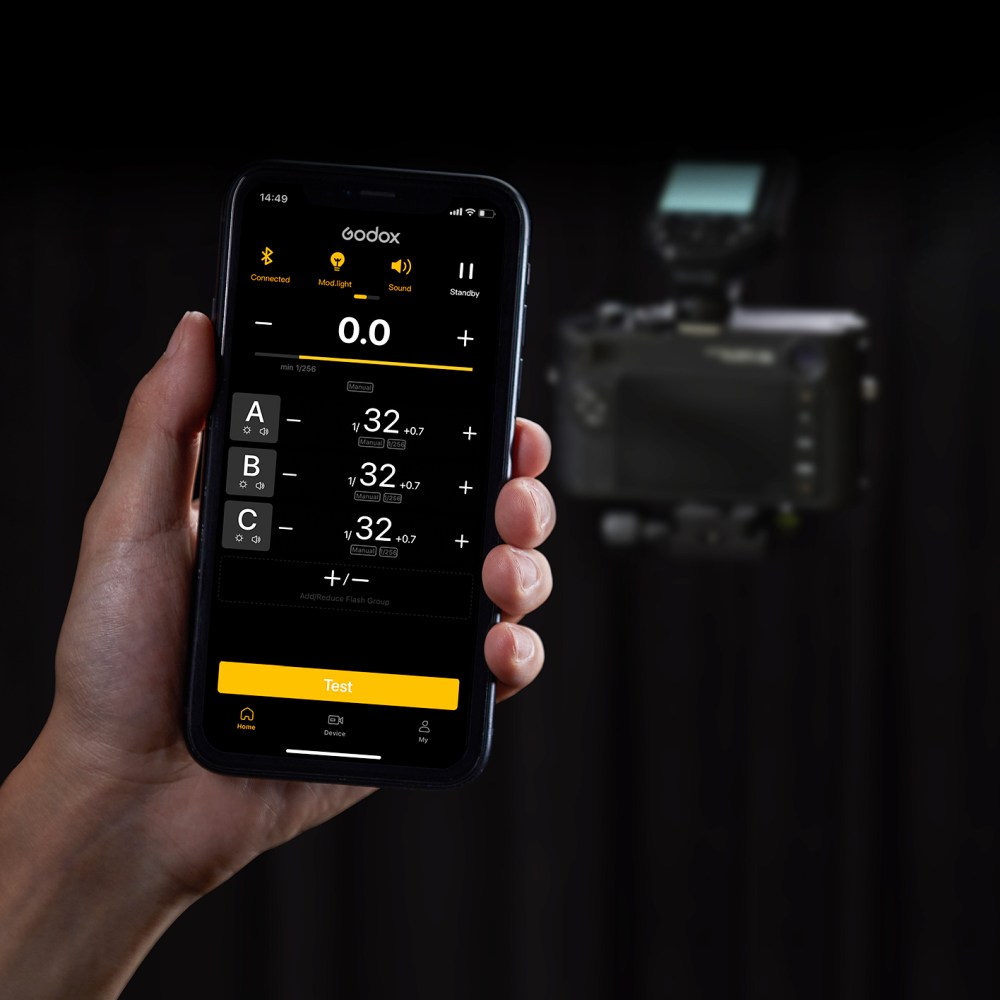 What also keeps evolving is Godox Flash App. To provide users with a more flexible and intuitive controlling process, the XproII is built with Bluetooth connectivity so that the lighting parameters can be easily adjusted on your iPhone, Android smartphone, or tablet. The Goodx Flash App is designed with a clear and easy-to-use interface which will bring you unparalleled working efficiency.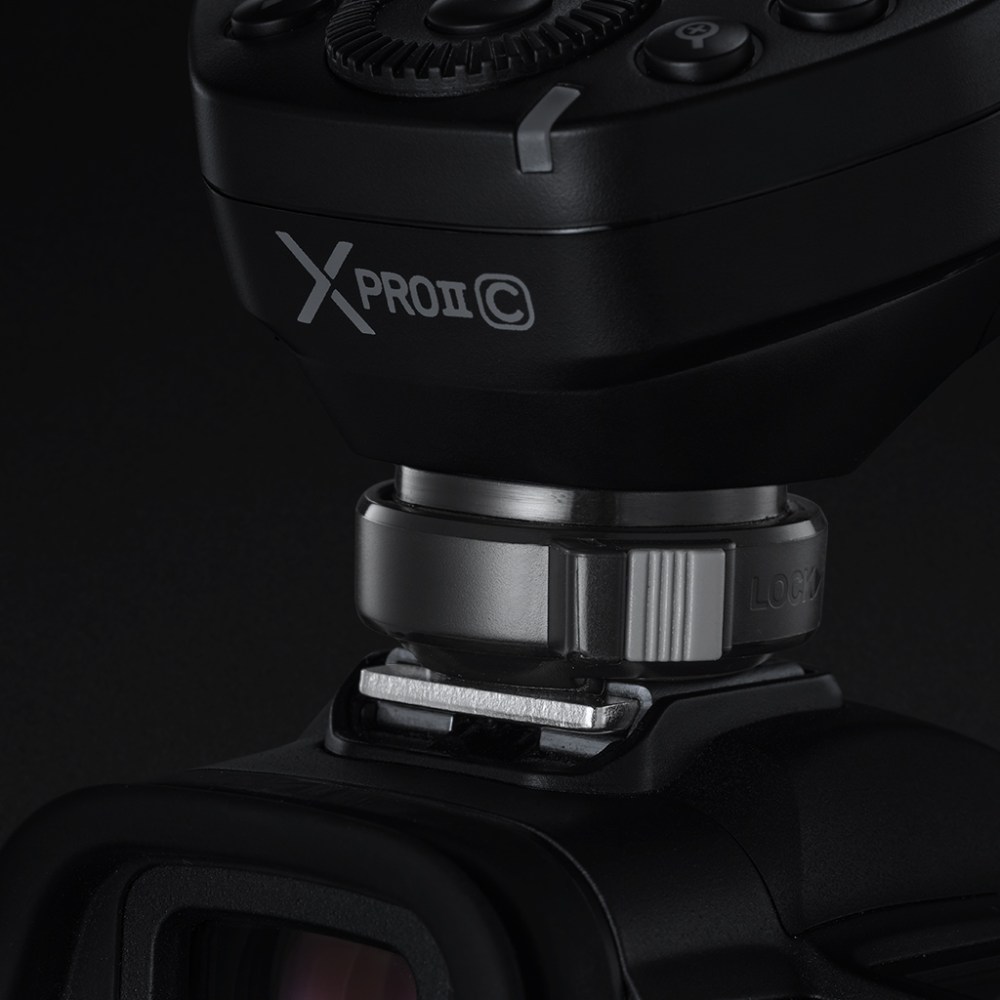 Quick-Release Lock. The XproII – S/N/C/F/O employs a quick release lock design. With a simple push to place your flash trigger safe in place, this design will provide you a efficient and convenient shooting process.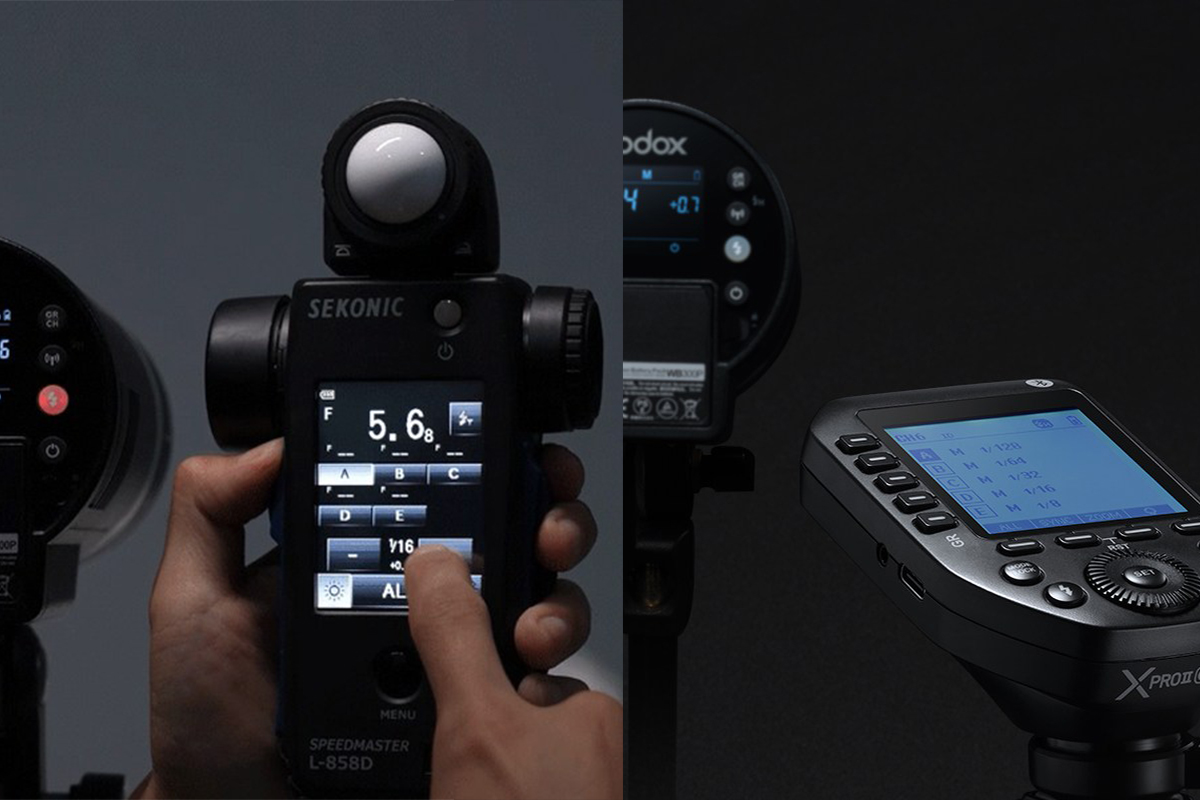 A collaboration has been established between XProII and Sekonic L-858 to enhance your workflow to the next level. L-858 is built-in with Godox 2.4G module, so you are able to adjust the flash parameter directly on L-858 after metering, ensuring a much more precise and convenient lighting process.
The Godox innovative TCM function brings you smooth operation and lets you immerse into your creative passion. The two-way TCM allows for instant conversion from TTL mode to Manual mode with retained parameters and back again. This function helps you get the proper exposure value quickly and promises you an accurate and coherent expression of light.