About this item
• 【Full-Duplex Intercom Headset with ENC】 - Hollyland Solidcom C1 Pro is the world's first Intercom system with dual-mic environmental noise cancellation technology. It reduces the ambient noise by 20 dB, delivering clear HD audio in 150Hz-7kHz frequency response range with a 16K sample rate, >70dB Signal-to-Noise Ratio, and <1% Distortion. Perfect for team communication in challenging loud environments.
• 【PTT Button with TALK/MUTE Function】 - C1 Pro is a full-duplex hands-free inter-communication system, allowing all headsets to speak and listen simultaneously while providing a more user-friendly experience with the Push-To-Talk button. It allows you to long press it to talk and release it to mute like walkie-talkies. You can press the button to switch the talk/mute state or rotate the mic boom up/down like Solidcom C1.
• 【1,100ft LOS Range, Encrypted & Stable】 - C1 Pro intercom headset supports a reliable and instant wireless audio transmission distance of up to 1,100ft in open spaces, providing a private and interference-free conversation in the 1.9GHz frequency band. Your team can keep connected and move freely in major and complex environments, like boat operation, FPV production, filmmaking, and sports event, etc.
• 【Rechargeable Battery, Comfortable to Wear】 - Each C1 Pro wireless headset comes with two batteries and reduced 20% of power consumption for convenient field replacement and minimal downtime. Crafted with premium PC-ABS materials, it's lightweight at 6oz, compact and portable. With thicker mic cushion, ergonomics over-ear cushion, stainless screw, and warmer indicator light, you won't feel tired even wearing it all day long.
• 【Compatible with Solidcom C1】 - C1 Pro is fully compatible with the Solidcom C1 system for flexible and expandable team communication. You can pair up to 8 headsets without a HUB, and experience ENC noise-canceling, Push-To-Talk function, and many other new features. C1 Pro headsets can be given to members who are working in a noisy environment like the stage front, so others can hear crystal-clear sound.
Solidcom C1 Pro
Next-Level Team Talk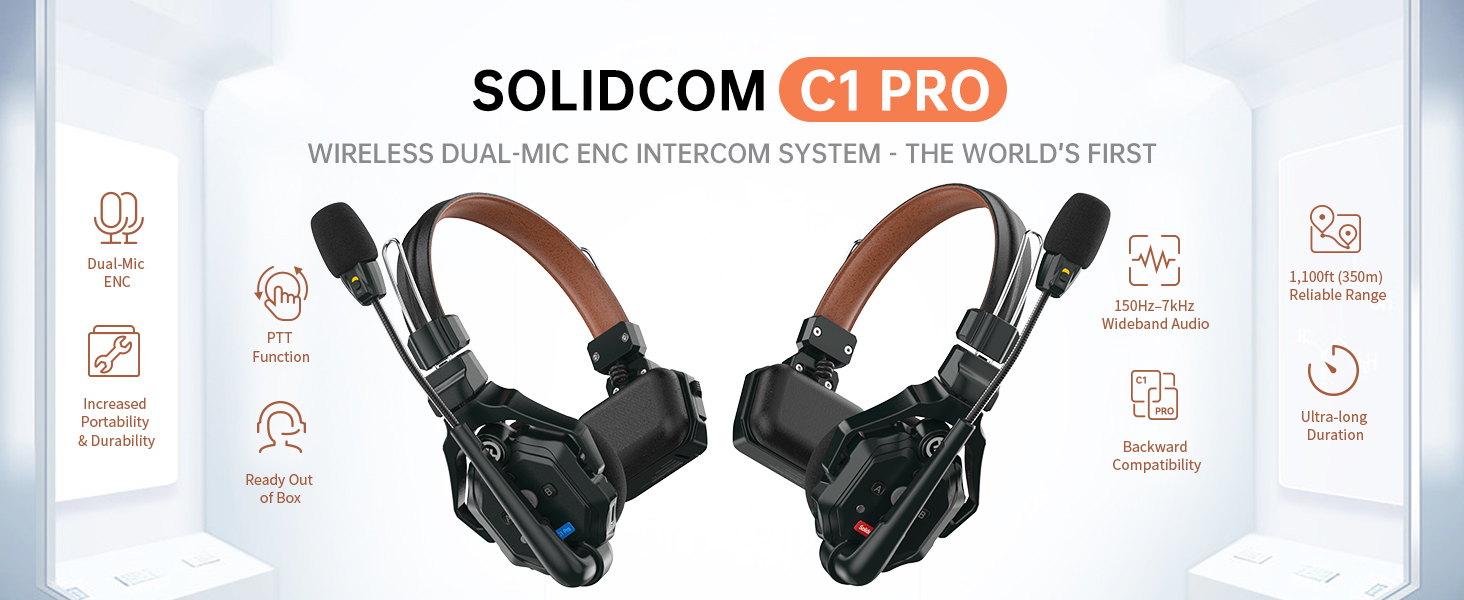 1,100ft (350m) Full-Duplex ENC Wireless Intercom Headset System
The Solidcom C1 Pro, Hollyland's first-of-its-kind full-duplex wireless intercom headset system featuring dual-mic Environmental Noise Cancellation (ENC) technology, is incredibly lightweight and easy to use. It is a true game changer with built-in ENC, ideal for production teams working in loud environments where exceptional communication clarity is essential. This new-generation headset system features a wideband audio range of 150Hz to 7kHz, and a reliable LOS communication range of up to 1,100ft (350m).
ENC-powered Clear Audio for Efficient Team Coordination
Unparalleled Dual-Mic ENC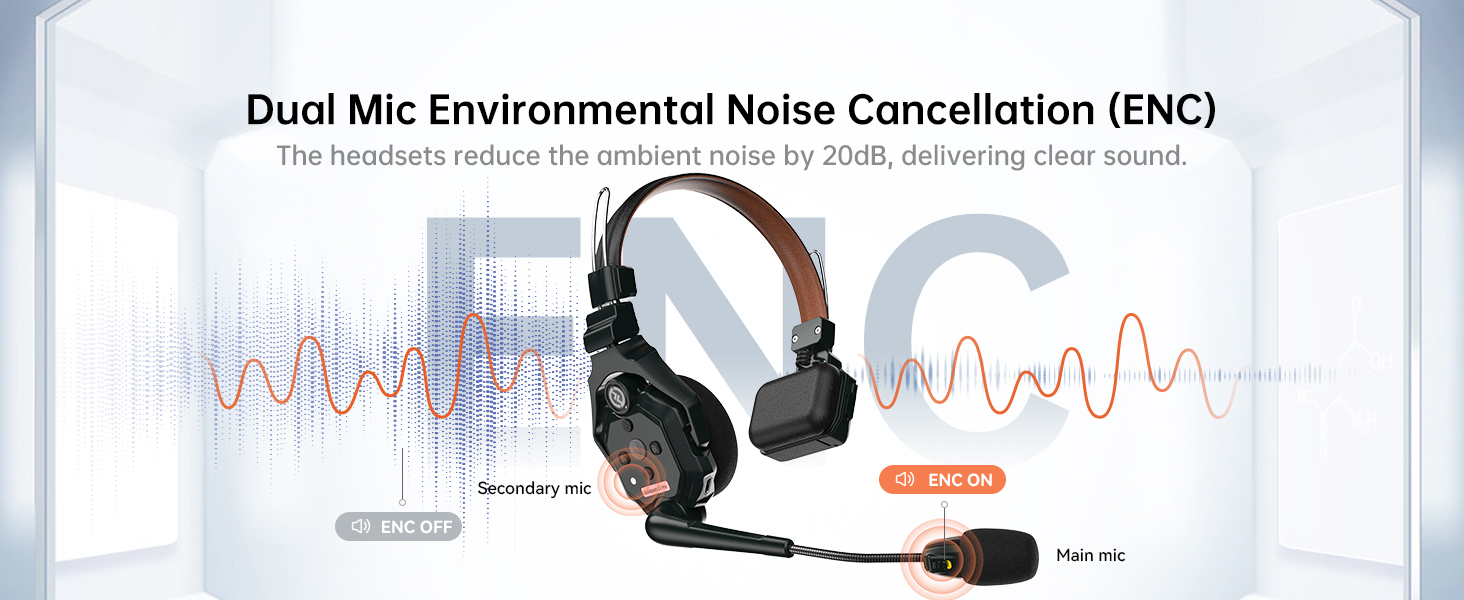 The Solidcom C1 Pro boasts unparalleled dual-mic ENC technology that delivers clear sound captured from challenging loud environments. Its directional main mic focuses precisely on the speaker's voice range, and simultaneously, the omnidirectional secondary mic collects environmental noise from different directions as noise samples. The sound signal is processed with the advanced ENC algorithm, effectively cancelling the environmental noise and delivering crystal-clear sound quality.
Note: The ENC technology functions by removing the environmental noise at the speaker side, so that the listener can hear the speaker's voice clearly.
150Hz–7kHz Wideband Audio with AEC
The Solidcom C1 Pro intercom system is capable of delivering authentic and clear sound even in the most demanding production environments. Its premium Acoustic Echo Cancellation (AEC) function effectively removes unwanted echo within the 150Hz to 7kHz frequency response range, bringing in more efficient teamwork.
Robust Wind Noise Removal
Troubled by wind noise in outdoor production environments? The Solidcom C1 Pro offers a versatile solution that prevents airflow from directly hitting the mic. With the Y5 felt paper designed for the main mic as the wind filter as well as the microphone cushion, you can enjoy complete peace of mind in production environments where wind noise is a major challenge.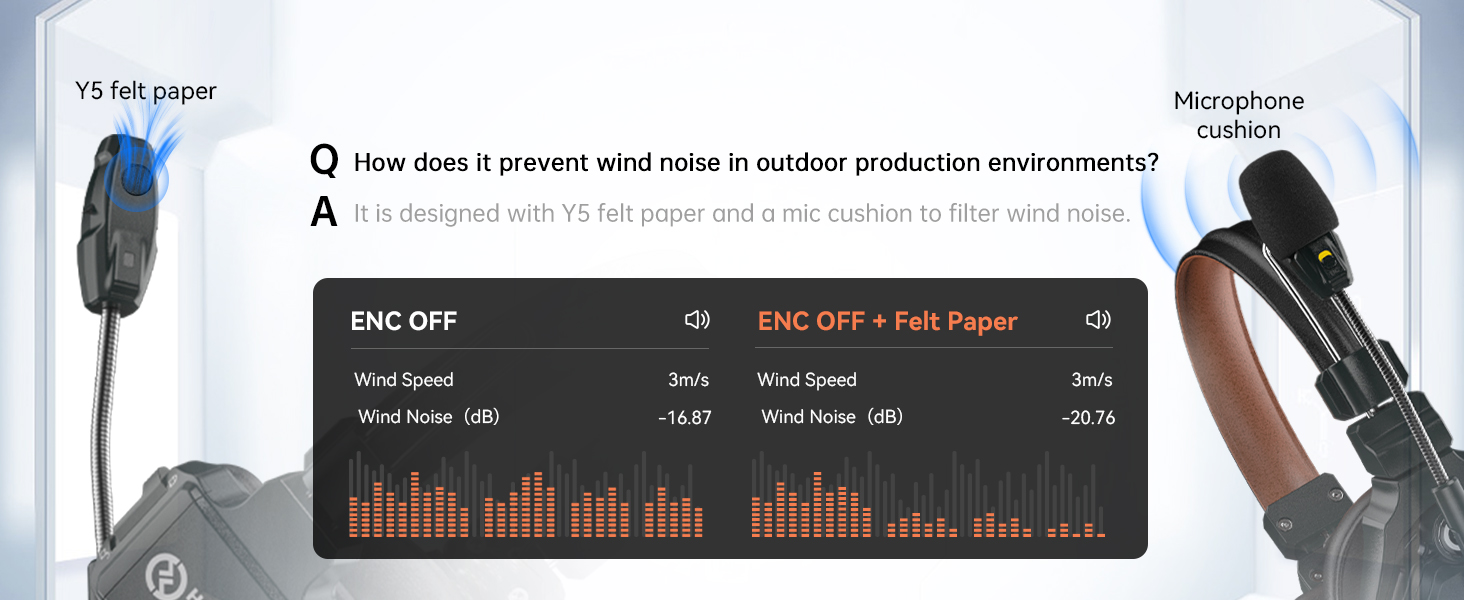 Exceptional Simplicity for Efficiency
The Solidcom C1 Pro is ready when you are. The out-of-the-box and ready-to-go features redefine the wireless intercom system category, and its simple form factor design achieves a breadth of intuitive operations. Just switch the headset ON, place it on your head, and then begin talking with your team in a matter of seconds, so that you can focus more on efficient hands-free team collaboration.
TALK/MUTE Button with the PTT Function
Note:

To switch between the TALK and MUTE modes, simply press the TALK/MUTE button. You can also switch between the two modes by rotating the mic boom up or down.

To use the PTT function, press and hold the TALK/MUTE button to talk and then release the button to mute yourself.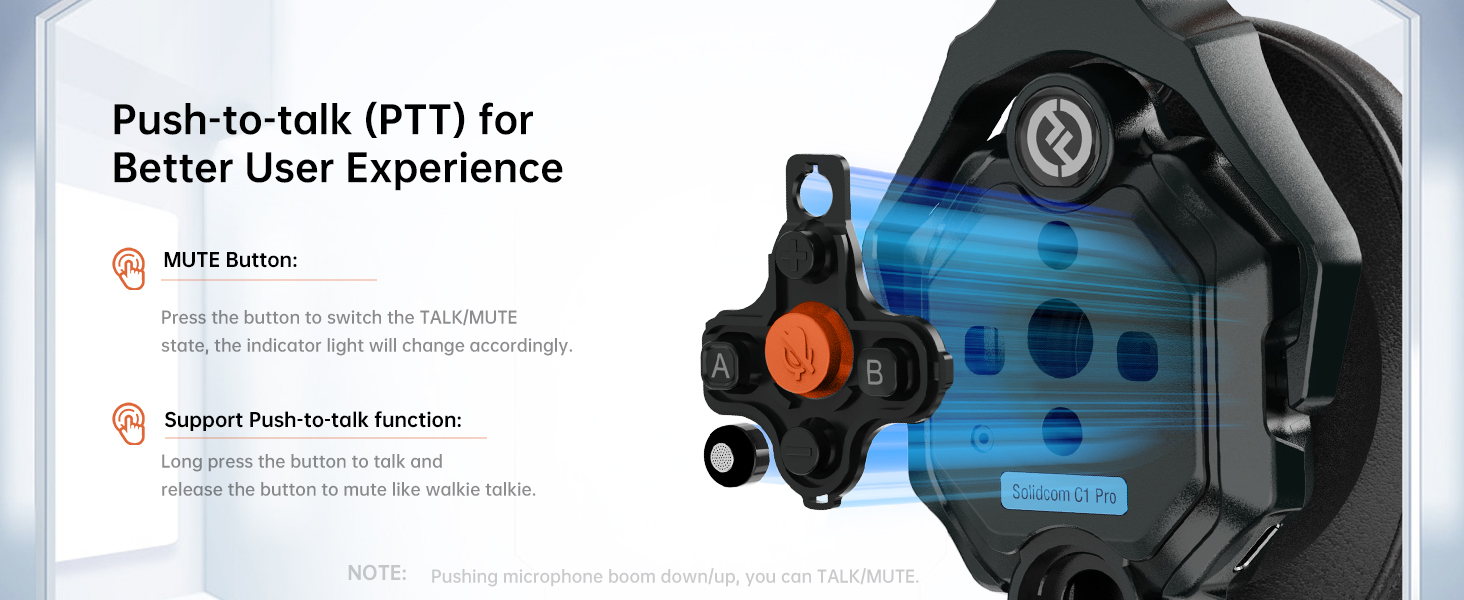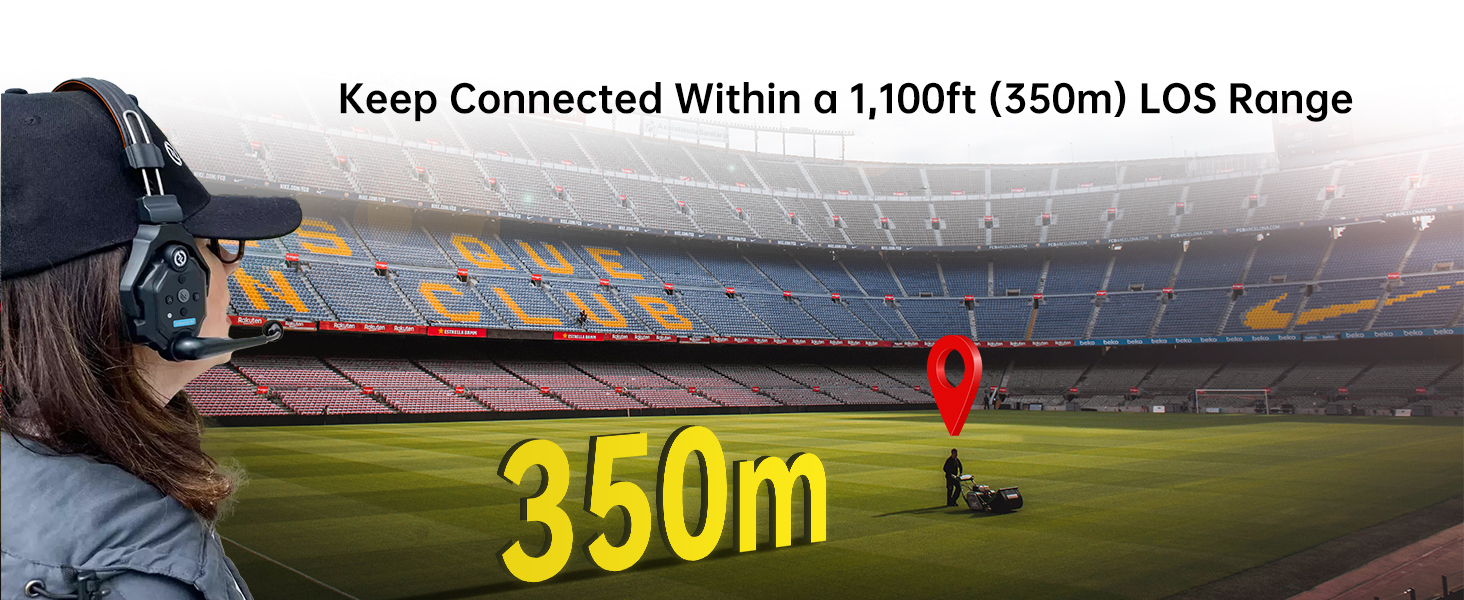 Keep Connected Within a 1,100ft (350m) LOS Range
The transceiver built into the Solidcom C1 Pro master headset offers a reliable wireless two-way communication range of up to 1,100ft (350m). Your team can keep connected and move freely across an expansive space at major events, such as church productions, TV & film productions, live performances & events, and more.
Uncompromising Security & Stability
The Solidcom C1 Pro offers full support for secure communication by preventing people outside the system from hearing your conversation with its encryption technology.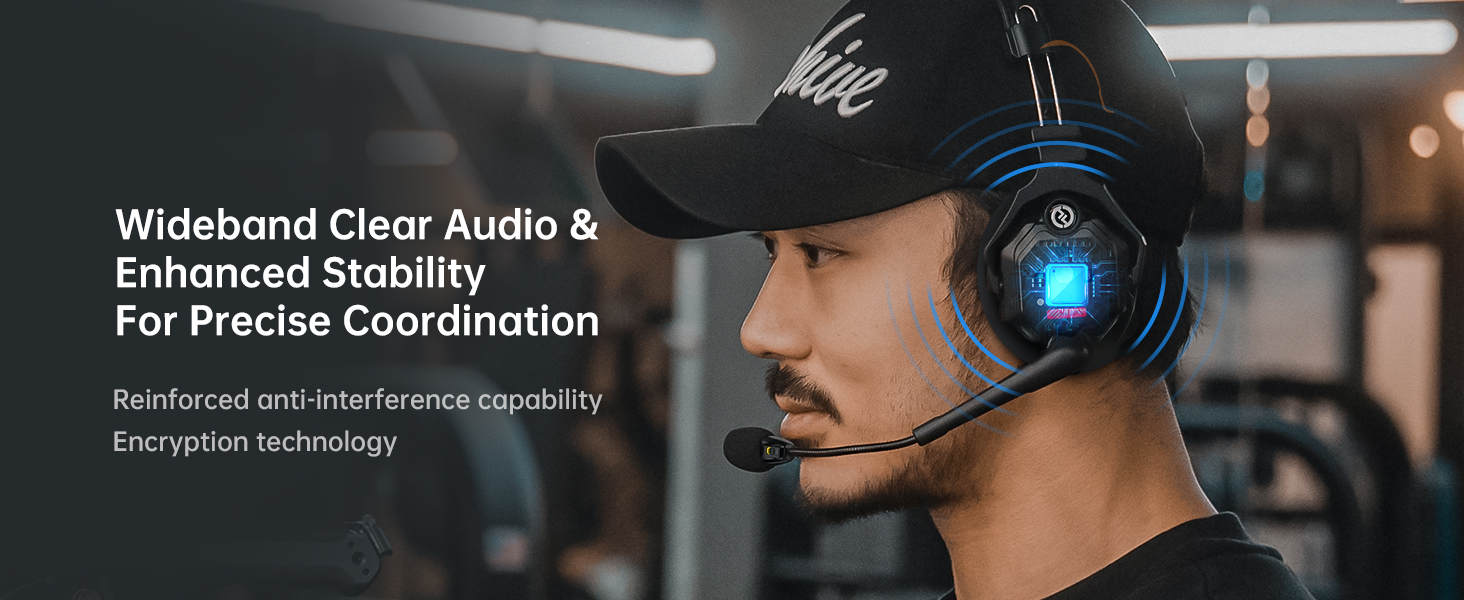 With a dual-antenna design scheme for each headset, the Solidcom C1 Pro enables unparalleled interference-free communication stability and clarity with a doubled user capacity on the communication channel.
Intercom All Day Long with Rechargeable & Replaceable Batteries
Ultra-low power consumption:
⇩20% reduced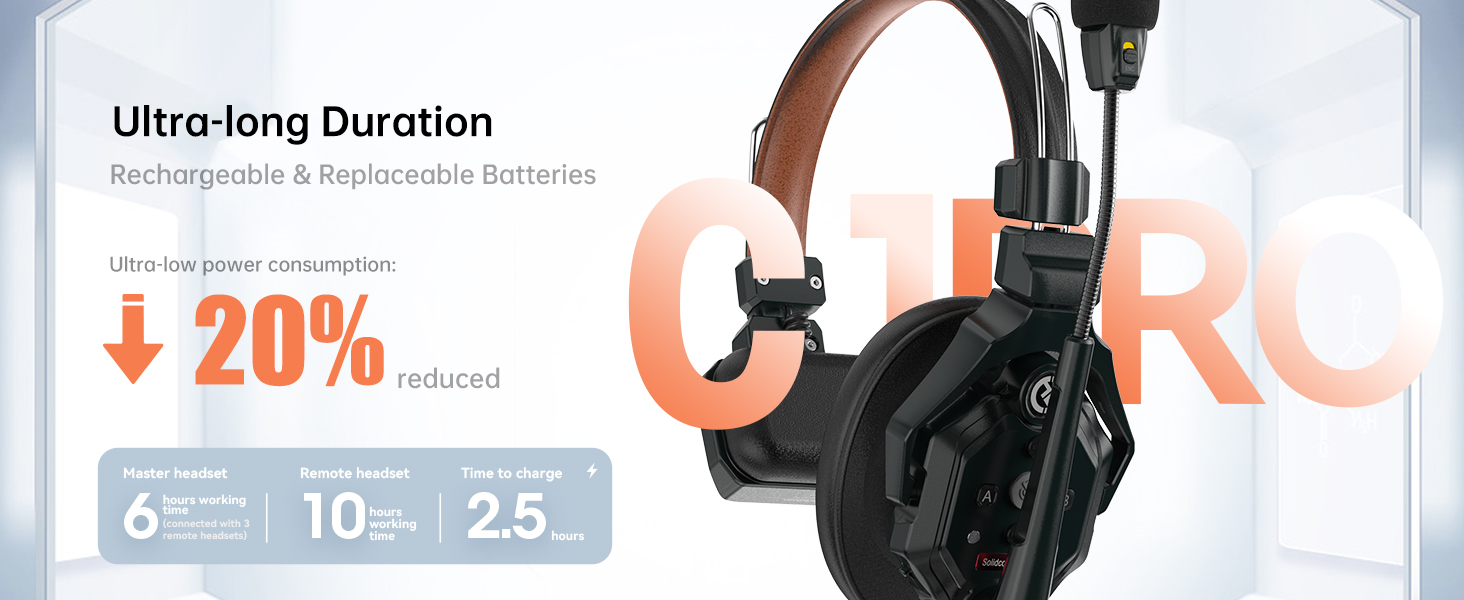 Note: Each headset comes with a spare lithium battery for convenient field replacement, keeping the system running with minimal downtime.
Master headset
6 hours working time
(connection with 3 remote headsets)
Remote headset
10 hours working time
Time to charge
2.5 hours
Increased Portability & Durability for a Better Experience
The Solidcom C1 Pro headset is crafted using PC-ABS materials, making it incredibly lightweight—a mere 170g (6oz) with the battery included and super compact. The upgraded over-ear leather cushion better fits the human ear structure for added stability and comfort, perfect for anyone who works in challenging environments. Durable on-ear foam cushions are also provided to address different wearing preferences. Simply use them as needed and enjoy the experience of incredible portability and comfort without compromising quality.
Customizable and Expandable for Varying Team Sizes
The Solidcom C1 Pro is available in a variety of non-hub packages for accommodating team sizes ranging from 2 to 8 members. If A & B grouping and the ANNOUNCE function are desired, a hub (including a wired headset) can be easily incorporated into any number of headsets. A hub-based system supports a communication team with up to 9 members.
Note: A master headset cannot be used in a hub-based system.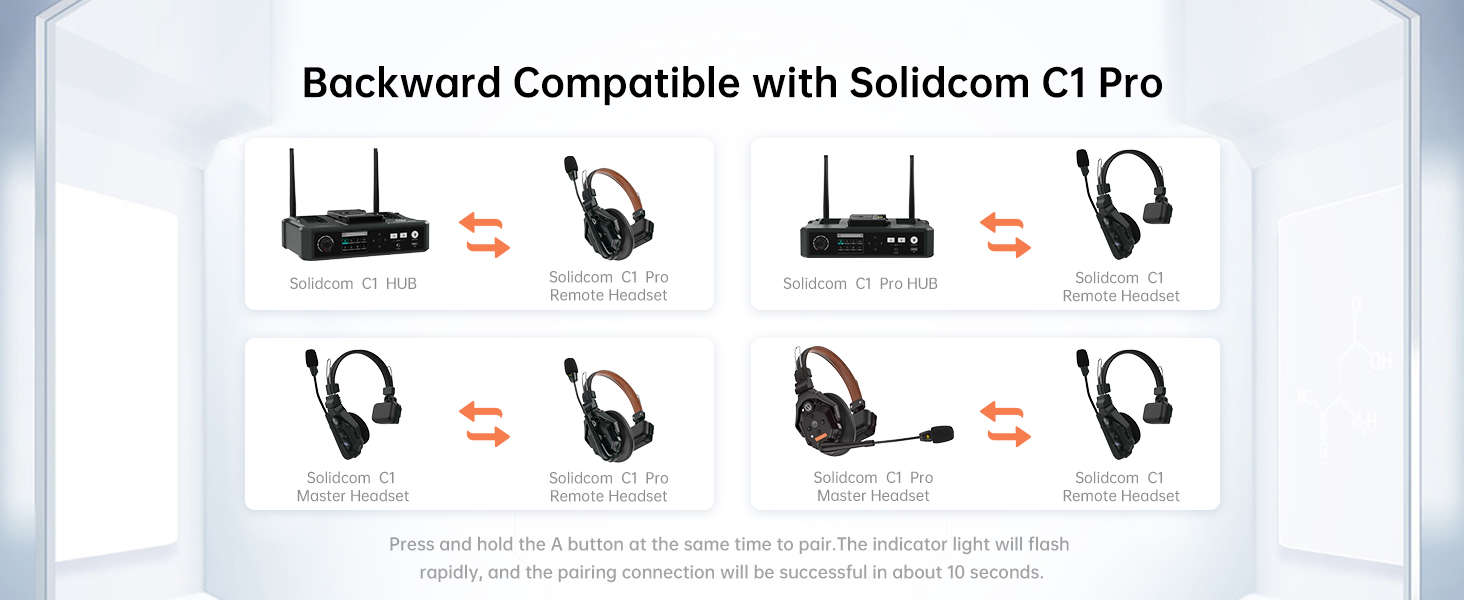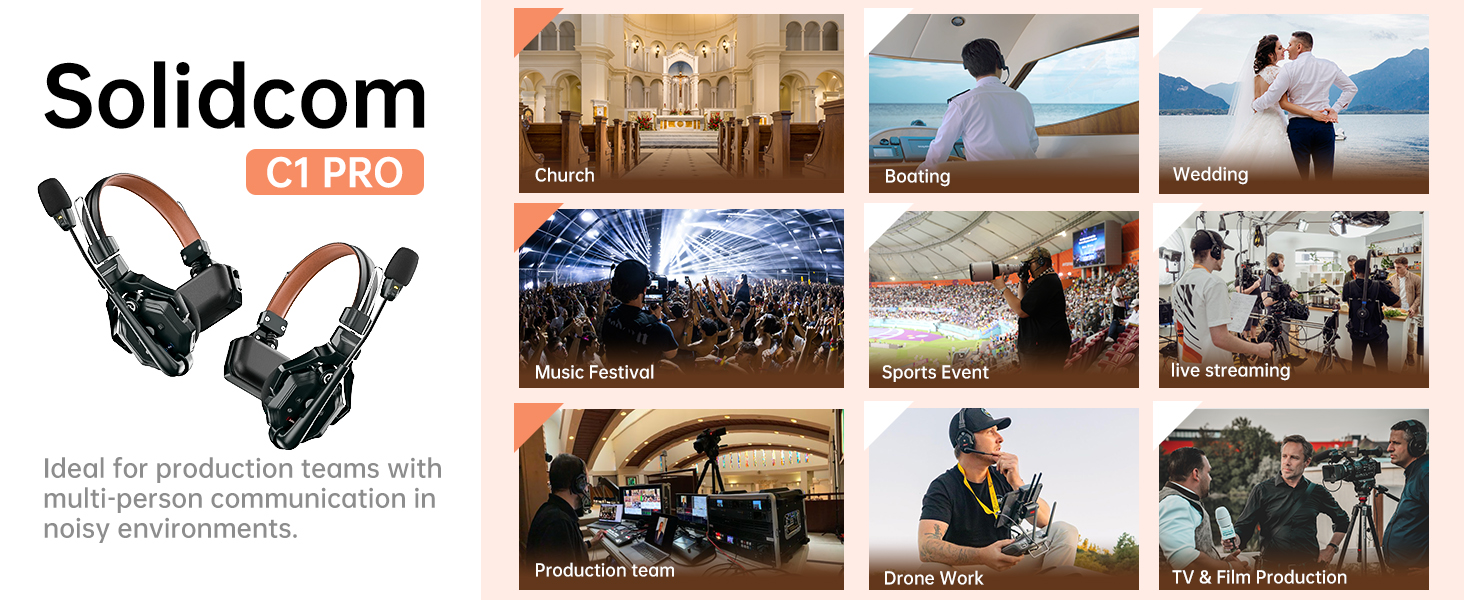 Parameters
Transmission Range

1,100ft (350m) LOS

Frequency Band

1880-1900 MHz: Europe, South Africa, much of Asia, Hong Kong, Australia, and New Zealand (10 channels)

1880-1895 MHz: Taiwan (8 channels)

1893-1906 MHz: Japan (J-DECT)

1910-1920 MHz: Brazil (10 channels)

1910-1930 MHz: Much of Latin America excluding Brazil

1920-1930 MHz: USA and Canada

2406-2474 MHz: Indonesia (SRD)

Modulation Mode

GFSK

RX Sensitivity

<-90dBm

Battery Capacity

700mAh(2.66Wh)

Operation Time

Remote headset: >10 hours (ENC ON)

Master headset: >5 hours (ENC ON with 5 remote headsets)

Master headset: >4 hours (ENC ON with 7 remote headsets)

Charging Time

About 2.5 hours

Frequency Response

ENC OFF: 150Hz–7kHz (fluctuation range: ±6dB)

ENC ON: 150Hz–7kHz

Signal-to-Noise Ratio

71±2dB@94dBSPL,1kHz

Distortion

<1%@94dBSPL, 150Hz–7kHz

Microphone Type

Electret

Input SPL

>115dBSPL

Output SPL

94±3dBSPL (@94dBSPL, 1kHz)

ENC

20dB±2

Net Weight

About 170g (6oz) with the battery included for each wireless headset

Temperature Range

0℃ to 45℃ (working condition)

–10℃ to 60℃ (storage condition)