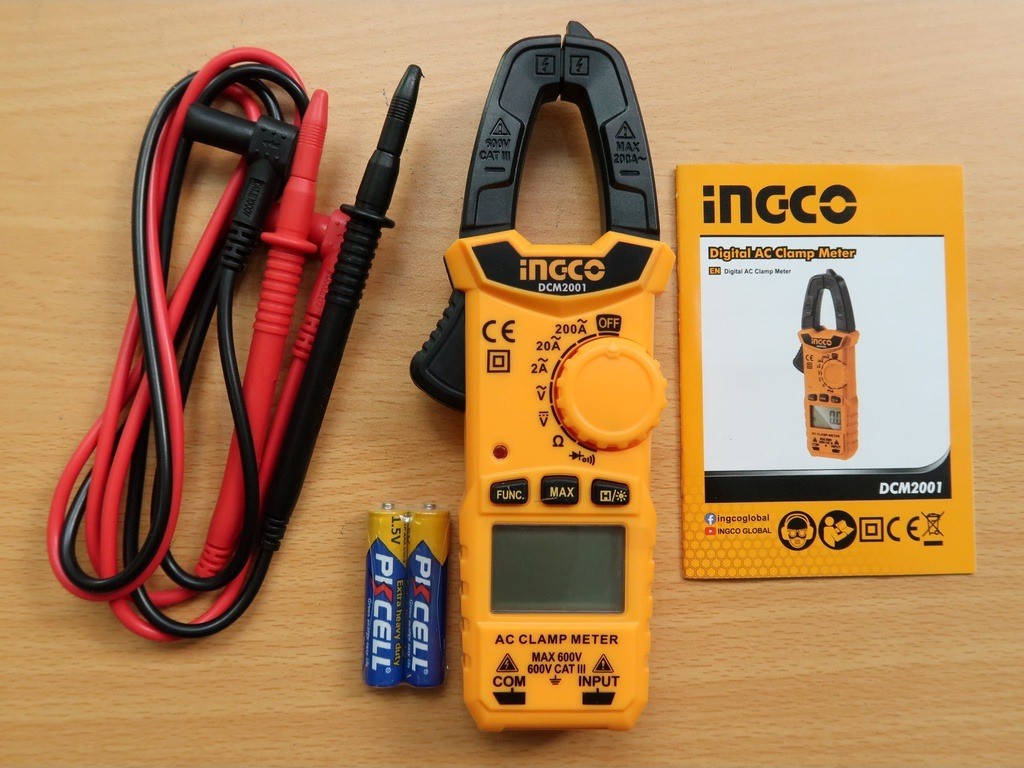 Description:

The INGCO DCM2001 Digital Clamp Multimeter is suitable for both amateurs and professionals. It makes it possible to measure the parameters of electric current.
Thanks to the convenient switch, it is easy to select the required range.
Backlit display makes it easy to work in dark rooms.
The strong plastic case is steady against mechanical damages.
The HOLD function allows you to freeze data on the screen for easy measurements in confined spaces.
Features:
AC Voltage:2V/20V/200V/600V

DC Voltage:200mV/2V/20V/200V/600V

Resistance: 200Ω/2kΩ/20kΩ/200kΩ/2MΩ/20MΩ
Other Details:
Dimensions without packaging 165x60x33 mm;

Variable ranges. current: 2, 20, 200 A;

DC ranges. current: 2, 20, 200 A;

DC ranges. voltage: 0.1-600 V;

Variable ranges. voltage: 0.1-600V;

Frequency ranges: 40 - 1000 Hz;

Resistance ranges: 0.002/0.02 MΩ;

Max post. current; 200 A;

Max post, voltage: 600 V;

Max resistance: 0.02 MOhm;

No capacitance measurement;

No frequency measurement;

No temperature measurement;

Measurement frequency: 3 meas/sec;

Automatic shutdown after 15 minutes;

 
Specifications:
Brand: INGCO
Model: DCM2001
Type: Digital AC Clamp Meter
Usage: Electrical Tester Tool
Display: True RMS
2000 Counts Data Hold
AC Current: 2A/20A/200A/200A/ (2.5% +5)
AC Voltage: 0~600V (0.8% +5)
DC Voltage: 0~600V (0.5% +3)
Resistance: 2kO/20kO (0.8% +3)