Insta360 Multi-Function Bullet Time Handle for ONE X Action Camera (Handle/Tripod, Selfie Stick Bundle) for Vlogging, Travelling, Sports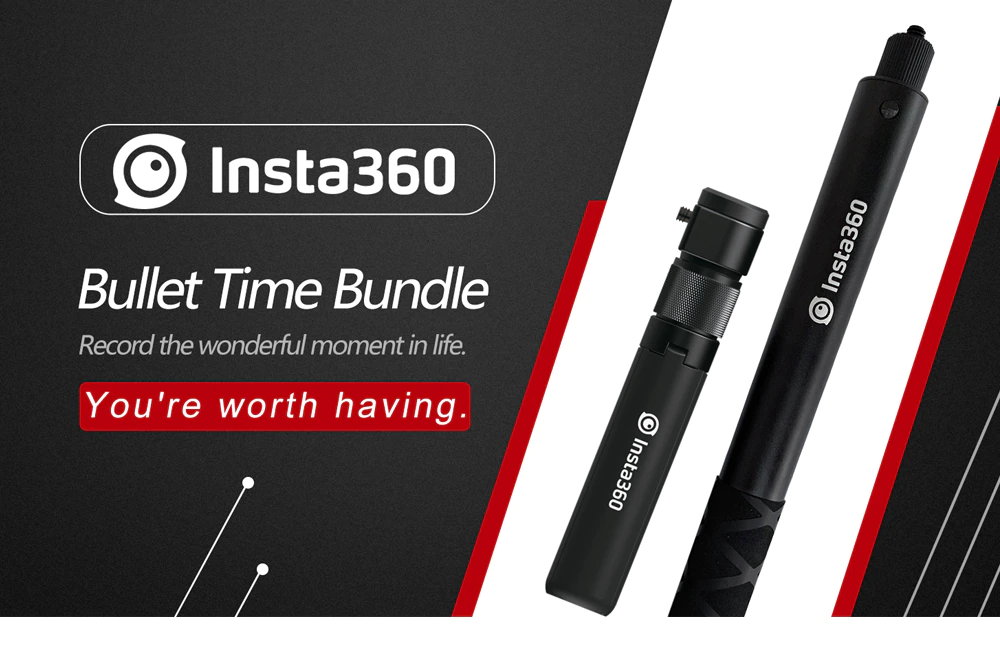 Overview:
The Insta360 Bullet Time Accessory Bundle enables you to capture 360° selfies using your Insta360 ONE X action camera. The Bullet Time Handle allows you to swing your ONE X camera in a complete circle overhead without needing to reposition your hand on the grip. A folding tripod is incorporated into the handle to mount the handle on the ground or a flat surface for a level bullet-time rotation. The handle attaches to the reinforced selfie stick, which extends to a maximum length of 47.2" and features a 1/4"-20 mounting thread on the end.
Turn on bullet-time mode on your camera, grip the handle, and rotate at a smooth one turn per second.
The Bullet Time Tripod Handle doubles as a tabletop tripod and a selfie stick handle for swinging your camera overhead.
Compatibility: ONE X2, ONE R, ONE X, ONE
Bullet-Time Handle doubles as an indoor tabletop tripod. Tripod is not designed for outdoor use, or for use with the selfie stick as an extension pole.
Insta360 CINGBTH Specs
Mounting Thread: Selfie Stick: 1/4"-20
Dimensions: Selfie Stick Length: 47.2" / 120 cm (Maximum Length), Handle Length: 5.2" / 13.3 cm
Note:
The included selfie stick is specially fortified for use with the Bullet Time Handle. Using a separately available Insta360 or third-party stick with the handle may damage your ONE X camera.