Ohuhu Art Paints 24-Pc Metallic 59ml Acrylic Paint Set for Wood and Ceramic Art Crafts | OHUHU Y30-80700-34
₱1,29900

₱1,299.00

Save ₱950
---
---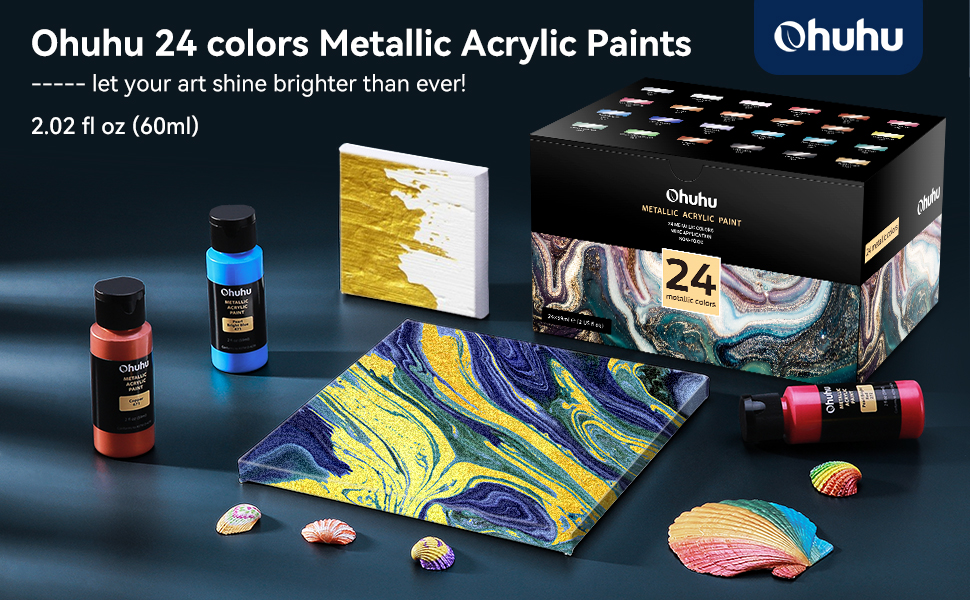 Features:
- The superior color adhesion and gloss finish make this acrylic color set from Ohuhu easy to apply to any surface, from stretched canvas, wood, black and white paper, plastic, ceramic, piggy bank, fabric, wood furniture, art chalkboard, and more.
- Notice: Ohuhu metallic acrylic paints are thick and sticky, if you want to create your pouring artwork, don't forget to dilute it with water.
Color vibrant, long-lasting
- Once you've created your masterpiece, the colors stay vibrant, are long-lasting, and are light and sun resistant.
- These smooth metallic paints also add a touch of style to your artwork.
Safe, odorless, and non-toxic
- Safty is key, these paints conform to ASTM D-4236 & EN71-3 (CE), are safe, odorless, and non-toxic, and can be used by adults, children, novices, and paint masters.
- 59ml(2.02oz.) Large capacity, forget about wasting paint—just open the lid, tip the bottle upside-down and the paint will squeeze out in a controlled manner.
- It is also great as a Christmas, Mother's Day, Father's Day, Valentine's Day, Back to School, Thanksgiving, and Birthday gift.
- Ohuhu glitter acrylic paints dry quickly and are waterproof after 24hours of drying.
Specifications:
Paint Type: Acrylic
Surface Recommendation: Wood, Ceramic
Brand: Ohuhu
Color: Metallic Colors x 24
Unit Count: 24 Count
Finish Type: Metallic
Package Information: Bottle
Size: 2 Fl Oz (Pack of 24)
Item Volume: 2 Fluid Ounces
Full Cure Time: 24 Hours