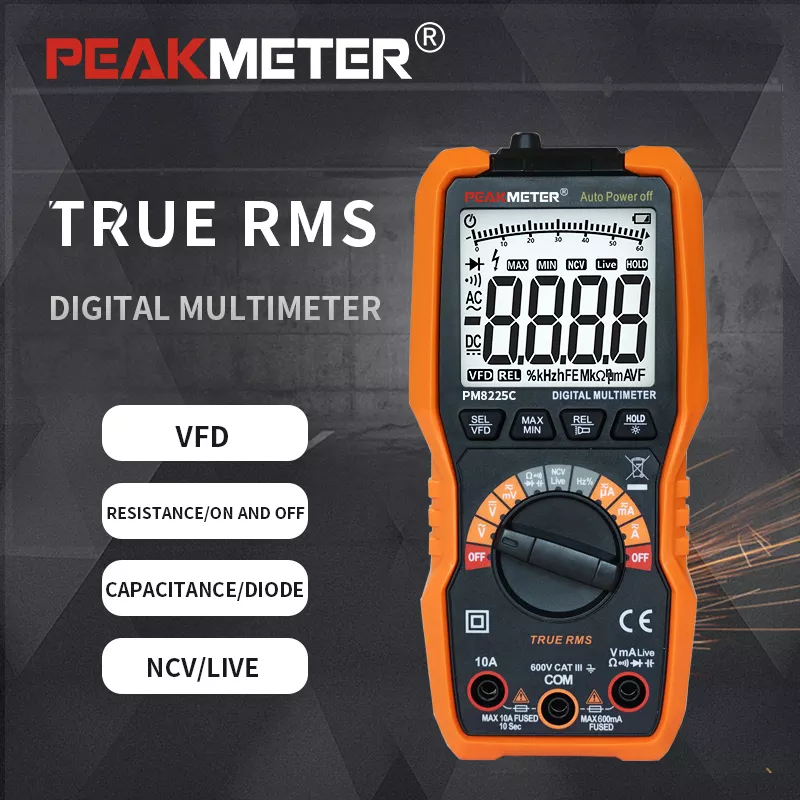 Overview:
PM8225C is a handheld digital multimeter. This instrument retains the features of PM8225's large LCD screen, dust-proof dial, and soft rubber protective shell, and has been further upgraded in functions, buttons, dials, etc. 6000 counts display, high precision measurement. 
In addition to AC and DC voltage, DC current, resistance measurement and NCV, continuity detection, the function adds AC current, capacitance, frequency measurement and live wire detection.
The function keys are clear and easy to operate, and the range is automatically selected to reduce the user's operation. 
The meter is designed with an anti -burning circuit, with two fuses of 600mA/600V and 10A/600V to protect the meter circuit. The meter is portable and suitable for many different occasions.
Features:
Measuring Current Range:10A AC/DC
Measuring Voltage Range:600V AC/DC
Measuring Resistance Range:60MΩ
Measuring Capacitance Range:100mF
Measuring Inductance Range:NA
Operating Temperature:0~40℃
Dimensions:166mm*78mm*48mm
Function 3:Live Line Test
Power supply:2*1.5V AAA Batteries