Yongnuo YN-2.0X III PRO 2x Teleconverter Extender Auto Focus Mount Lens Camera Lens suitable for Canon EOS EF Lens YN2.0X III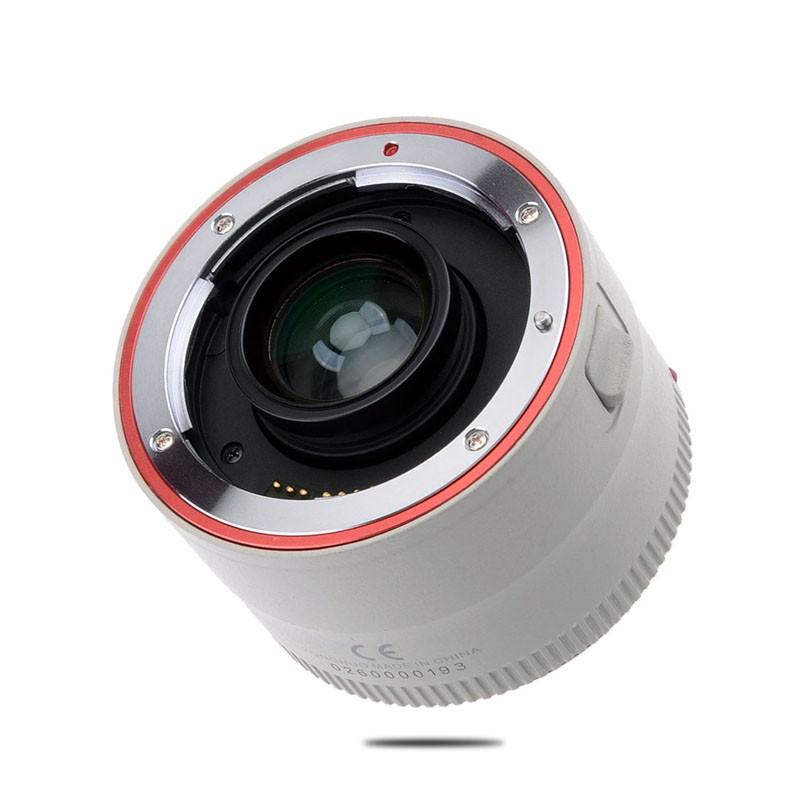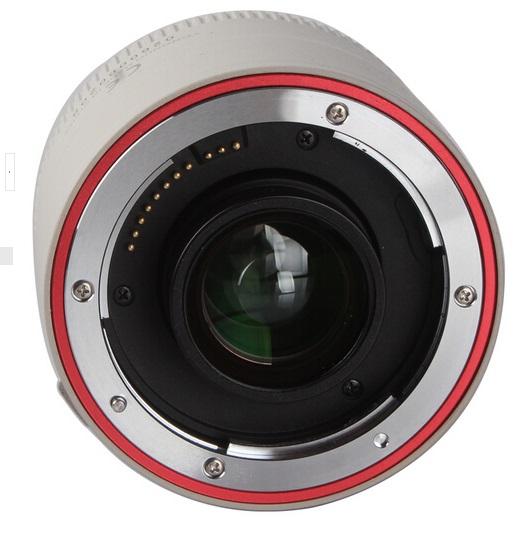 The YN-2.0X III is the updated version of YN2.0XII.
The optical design and glass coating have raised the level of the teleconverter. In addition, the redesign of the upgraded electronic aspect make the auto-focusing function of teleconverter able to adapt to more lens, such as the EF70-200MM F/2.8 L IS II, the EF70-200MM F/2.8 L IS II USM and most of the lens can achieve automatic focusing.
Specification:
The Magnification: 2 times
Coating: multi coating
Lens composition: 7 elements in 4 groups
Barrel diameter: 68mm approx.
Weight: 180g
Compatible with EF EOS Camera Lens:
EF 24-70MM F/2.8L II USM,
EF 24-70MM F/4L IS USM,
EF 24-105MM F/4L IS USM
EF 28-135MM F/3.5-5.6 IS USM
EF28-300MM F/3.5-5.6L IS USM
EF 70-200MM F/2.8L IS II USM
EF70-200MM F/2.8L USM
EF70-200MM F/4L IS USM
EF70-200MM F/4L USM
EF70-300MM F/4-5.6L IS USM
EF70-300MM F/4.5-5.6 DO IS USM
EF70-300MM F/4-5.6IS USM
EF75-300MM F/4-5.6IIIUSM
EF75-300MM F/4-5.6III
EF 100-400MM F/4.5-5.6L IS USM
EF24MM F/2.8 IS USM
EF24MM F/2.8
EF28MM F/1.8 USM
EF28MM F/2.8 IS USM
EF28MM F/2.8
EF35MM F/1.4 L USM
EF35MM F/2 IS USM
EF40MM F/2.8 STM
EF50MM F/1.2 L USM
EF50MM F/1.4 USM
EF85MM F/1.2 L II USM
EF85MM F/1.8 USM
EF100MM F/2 USM
EF135MM F/2L USM
EF200MM F/2 L IS USM
EF200MM F/2.8 L II USM
EF300MM F/2.8L IS II USM
EF300MM F/4 L IS USM
EF400MM F/2.8 L IS II USM
EF400MM F/4 DO IS USM
EF400MM F/5.6 L USM
EF500MM F/4 L IS II USM
And you can use it with below cameras in Automatic Focus function:
Canon 5D, 5DII, 5DIII, 6D, 7D, 10D, 20D, 30D, 50D, 350D, 400D, 450D, 500D, 550D, 600D, 600Da, 650D, 1000D, 1100D.
NOTE:
1, The shooting environment, resolution and the brightness should be ideal.
2, The AF Point should be adopted the free selecting focus mode.
3, The Canon cameras outside the list have not been tested. In generally, if the camera focus system is advanced, it can realize automatic focus.
4, When Teleconverter EF 2X is attached,the lens maximum aperture will be smaller by 2 stop.In the above two case, the camera will compensate the exposure auto
matically.
Precautions:
It cannot to use the YN-2.0X III teleconverter below 70mm zoom range.

Package Includes:
1 x Yongnuo YN-2.0X III Teleconverter
1 x Protecting Bag
1 x User Manual in English and Chinese