Zoom F6 6-Input 14-Track Multitrack Field Recorder
₱35,90000

₱35,900.00

Save ₱17,950
---
---
Features:
Location Recording & Production Sound
32-Bit Float Recording Avoids Clipping
6 x High-Gain, Low-Noise Mic Preamps
Records 6 Inputs & Stereo Mix
Ambisonics, WAV & MP3 Formats
Supports Control via App or FRC-8
Flexible Powering Options
SD Card / USB Interface Recording
AutoMix Software Reduces Mix Noise
Precision Timecode Reader/Generator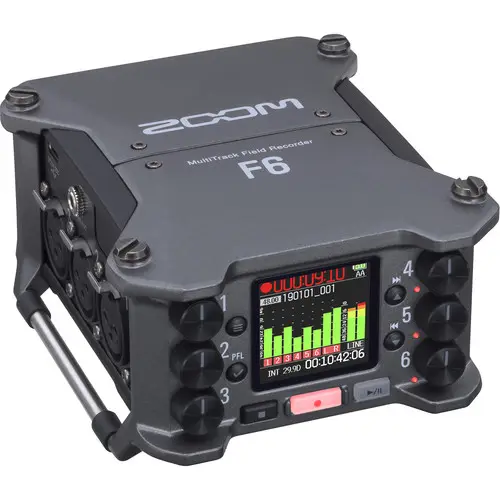 Forget about digital clipping and focus on the shot with the Zoom F6, an ultra-compact, multitrack field recorder with 32-bit float technology for distortion-free dynamic range, and up to 14 tracks of simultaneous recording for professional and enthusiast applications on set and in the field. Slide it in a sound bag, sling it over your shoulder, or mount it to a camera; the F6 packs quantity and quality into a rugged frame that's more than ready for filmmaking, production/location sound mixing, sound effects recording, and electronic news gathering (ENG).
From the large, informative color display and user-friendly controls to the flexible powering options and precision timecode functionality, the F6 is properly equipped to please novices and demanding veterans alike. Whether you need long-duration stereo recording for an interview, redundant capture of multi-mic setups for a video shoot, or Ambisonics sound files for virtual reality and 360-audio projects, the F6 has the modes, resolutions, and media support to handle your crucial audio tasks.Plus, its operational versatility ensures that the F6 will always enhance your workflow, be it simple, complex, or always changing. You can feel confident using it as your main recorder, a USB audio interface for your dedicated computer rig, or a backup unit for added safety.